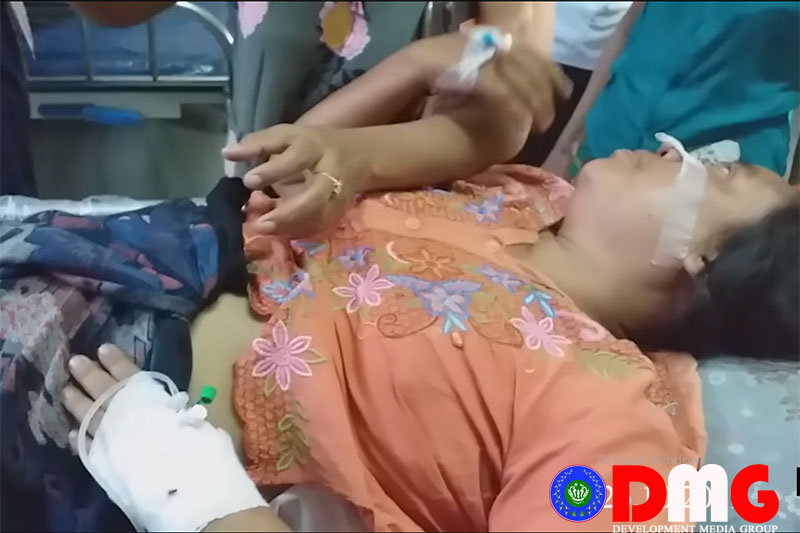 Min Tun/ DMG
27 October, Sittwe
A person who received injuries from a bomb blast while traveling in a convoy on the Buthidaung-Maungdaw highway, has been transferred from Buthidaung hospital to Sittwe hospital's intensive care unit on 26 October.
Daw Khin San Yu, 39, received injuries to her chest and arm on the way to Buthidaung prison from Maungdaw township court, according to her family.
"She appeared in court on that day. On the way back to the prison, their vehicle ran over a bomb. She did not know what happened at first. When they heard a second blast, they crouched in the vehicle. Then she noticed she was injured when she saw blood," her family member Daw Tin Yu said.
The State-owned newspaper said that about 10 AA members detonated two bombs by remote control when the prison vehicle that carried 20 detained people and 14 police traveled from Maungdaw township court to Buthidaung prison after their court hearing on 24 October.
The AA's spokesperson Khaing Thukha, however, denied that the AA attacked the prison vehicle and security convoy.
"We did not attack the convoy. The location was between Bama military camps. I think a military force attacked the convoy with the intention to propagate news among the international community that the AA attacked police," he said.
Two police were killed and five other police and two detained people were injured during the attack, the State-owned newspaper said.