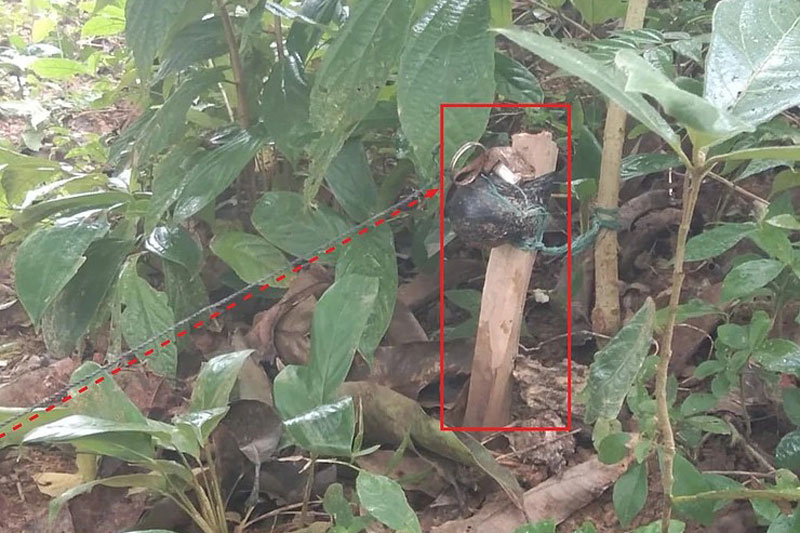 Khin Tharaphy Oo
29 October, Sittwe

Since deaths and injuries from landmine explosion are increasing where the Tatmadaw and the Arakan Army (AA) are fighting, the government and respective organizations need to work together to conduct awareness training on landmine risk education.
Ko Pan Aung Chay from Khamaungtaw village, Kyauktaw Township, went to a mountain near the village to harvest bamboo, he stepped on a landmine and lost his legs and one eye.
"I stepped on a landmine at a place 10 minutes' walk from our village. I was unconscious after stepping on the landmine. A fragment of the mine hit one of my eyes and one of my legs. Now one of my eyes is gone," Ko Pan Aung Chay said.
The AA released a warning letter on the risk of landmines on 25 October and it said that it found that attack mines, land mines and discarded mines were left near schools and monasteries where regiments under the No.22 and 55 Light Infantry Divisions were positioned.
The statement of the AA said that the Tatmadaw camped at schools and monasteries in 21 villages in Rathedaung Township and 19 villages in Buthidaung Township. The AA showed the name of the regiment and the date they were positioned along with photos.
But the Tatmadaw accused the AA of setting up landmines throughout fighting hotspots in Arakan State. The AA detonated landmines across the region, 7 people were killed and 19 injured, Maj-Gen Tun Tun Nyi, deputy chair of the Tatmadaw True News Information Team, said in a press conference held at the Defence Services Museum in Nay Pyi Taw on 26 October.
The Tatmadaw said in the press conference that it clashed with the AA 53 times between 16 September and 22 October and there were 32 mine detonations.
The number of civilian deaths due to bomb blasts and stray bullets has reach over 80 and the number of injured has reached over 130 while accusations have exchanged between two groups.
Families of victims said that their family members were killed or injured due to the gunfire from the Tatmadaw, but they could not tell who laid down landmines.
Wan Lark Foundation's director U Khaing Kaung San said that organizations should work with the government to provide landmine risk awareness and the government also needed to allow respective organizations to do their activities freely.
"Civil war broke out widely in our region now. We need to conduct a survey to know people's awareness of landmine risks. Some international organizations provide training or run workshops. In fact, people from conflict affected areas should have awareness of landmine risk and safe behavior," U Khaing Kaung San said.
The ICRC has been delivering mine-risk education in Arakan State while some other organizations are working with the ministry of Education to raise landmine-risk awareness among teachers.
But, people from mine risk areas are still facing the threat of landmines and there are reports of casualties due to landmine explosions. It shows that raising public awareness on landmines should be conducted widely in the areas with the threat of landmine risk.
The hostility between the Tatmadaw and the AA has been intensifying at the moment and both sides reported that they had suffered heavy casualties.