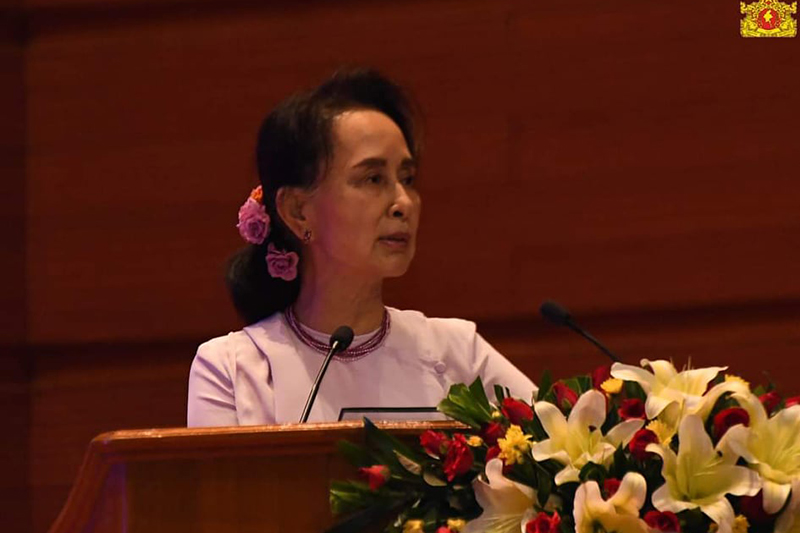 Khaing Roe La/ DMG
29 October, Sittwe

State Counsellor Daw Aung San Suu Kyi urges leaders of ethnic armed organizations that have yet to sign the Nationwide Ceasefire Agreement (NCA) to participate in historical political dialogues in her speech on the 4th anniversary of NCA Agreement held in Nay Pyi Taw on 28 October.
The government was seeking participation of all non-signatory EAOs in the peace making process, she said in her speech.
"Our second step is inclusive of all EAOs in the peace process. We will strive towards participation of all groups that should be under the umbrella of the NCA so that all the necessary groups can negotiate at the political table. We are stepping up our efforts to meet with non-signatories to be able to build a situation where armed conflict and engagements would be greatly reduced," State Counsellor said.
Snr Gen Min Aung Hlaing, the Tatmadaw's Chief of Staff said in his speech at the event that the attack of the Arakan Army (AA) on police outposts in Arakan State was an act of terrorists and the Tatmadaw could not look on such inappropriate acts without doing anything.
"Rakhine State had been identified as a white area in successive periods because the area was once stable and peaceful. But instability arose due to the terrorist act of the ARSA in Buthidaung and Maungdaw regions. The lives and property of local people including Rakhine, Mro, Chin and Khami were threatened and people been forced to flee from their homes. The Tatmadaw had to protect people's lives and prosperity in the region," Snr Gen Min Aung Hlaing said.
"Amid instability created by the ARSA, the AA launched insurgent attacks on four outnumbered border guard police outposts which were protecting ethnic villages in Buthidaung on 4 January 2019, taking its insurgency activity to next level. Those attacks were inappropriate for our democratization process. The Tatmadaw cannot stand by and do nothing in response to those insurgent attacks. The Tatmadaw has to protect local ethnic people against the ARSA as well as against the AA's insurgency simultaneously."
The AA's spokesperson Khaing Thukha told the DMG that the AA attacked the border guard outposts because troops of the Burma army had been positioned at the outposts and border guard police stations to support the military troops by shooting heavy weapons.
The armed conflict between the Tatmadaw and the AA in Arakan State have continued now for almost one year and the number of IDPs has been over 65,000.