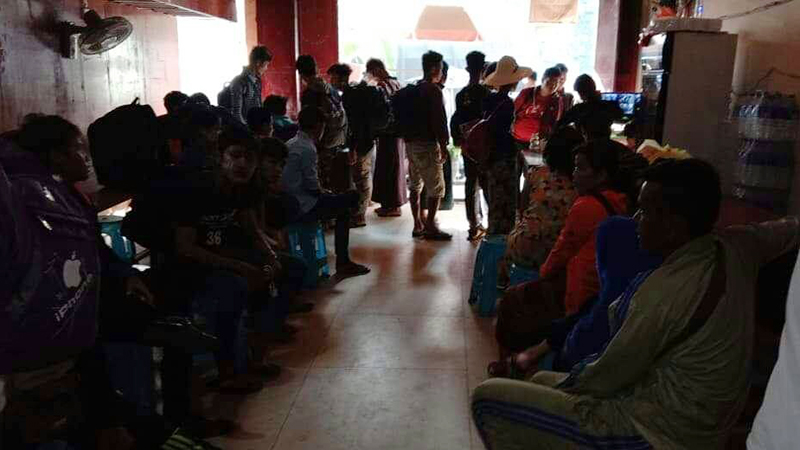 Khaing Roe La|DMG
November 4, Sittwe
More than 40 Arakanese young men and women, who arrived in Chin Shwe Haw town, Laukkaing Township, Northern Shan State between the China and Myanmar border to enter China, were questioned and sent back to their homeland by the authorities.
Daw Oo Thaung May, owner of Shwe Rakhine guest house in Chin Shwe Haw, told DMG that while 36 men and 11 women from Mrauk-U, Minbya and Rathedaung townships were staying at her guest house on November 3, the Tatmadaw soldiers and local police force turned up at the guest house and checked the guest registration list. Then they told the Arakanese people to go back to Arakan State.
"They [the Tatmadaw soldiers and local police force] came to guest house to check the guest registration list. They didn't let any of the Arakanese people go into China. They gave them a permission to stay at the guesthouse one more night because it was already late. But they were told that they will have to go back to Arakan State the next day," she said.
Regarding this issue, DMG tried to contact Brig-Gen Zaw Min Tun and Maj-Gen Tun Nyi Nyi from the Tatmadaw True News Information Team but no one responded.
Daw Oo Thaung May said that all Arakanese people have already left Chin Shwe Haw.
She added that stopping ethnic Arakanese people that stayed at the guest house has caused many difficulties for the guest house owners.
"Most of the guests at my guest house are Arakanese people. If they aren't allowed to stay here, our business will be difficult to run. Now we don't have any guests at the guest house," Daw Oo Thaung May said.
U Hla Thein Aung, a member of Pyithu Hluttaw from Minbya Township, said that stopping citizens to travel inside their own country was an infringement of citizen's rights.
"The laws say that a Myanmar citizen has a right to travel and live any place around Myanmar. Controlling ethnic people's travel plans is an encroachment of their rights as Myanmar nationals. These types of actions are a shameless display of hypocrisy," he said.
On August 24, 2018, 51 Arakanese people going to Keng Tung in Shan State were also stopped by a police check point near Tar Kaw bridge in U Ko Kune Hein township and sent back to Arakan State.