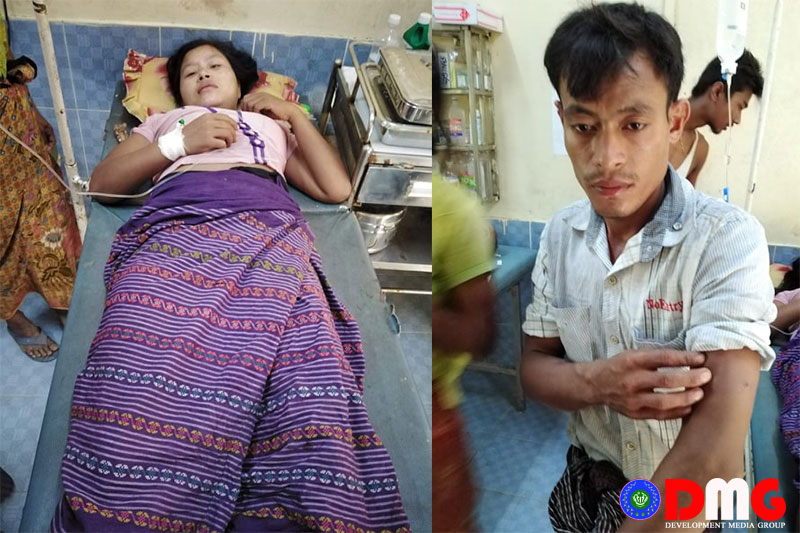 Win Nyunt | DMG
November 4, Sittwe
A husband and wife were injured by stray artillery fire while they were in their house in Kyaung Taung village, Mrauk-U Township, at around 12 p.m. on November 4, locals said. 
The two injured are Daw Ma Htway Lay, who suffered thigh injuries and her husband U Kyaw Than, who received a shoulder injury. 
"Ma Htway Lay has injuries on both her thighs. Her husband was hit on his shoulder," an anonymous resident said. 
Ko Thein Chay Maung, Kyaung Taung village administrator, said that while Daw Ma Htway Lay was arranging betel nut leaves in a tray downstairs in her house, an artillery shell was lodged in the back yard of the house and injured her.  
"The shell landed in the backyard of her house, and shell fragments hit a good part of her left thigh. Today, heavy weapons are being fired from two locations. We heard the sound of gunfire coming from Taung Phyu Mountain and we can also hear gunfire from the Mrauk-U side as well," he said. 
The residents said that they haven't yet determined the place of origin of the stray shell that entered their village. 
Currently, Daw Ma Htway Lay and U Kyaw Than are receiving medical treatment at Mrauk-U hospital.