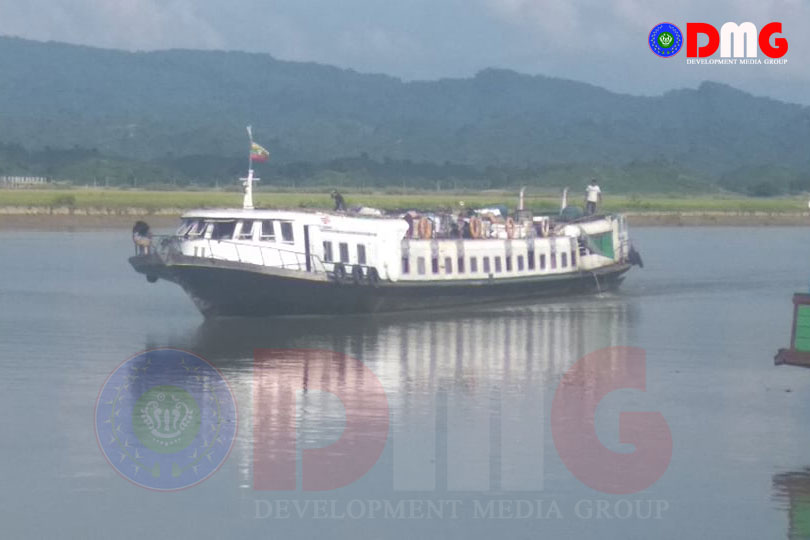 Nay Win San, Wun Tha (Maungdaw)|DMG
November 5, Buthidaung
The Arakan Army (AA) released 25 civilians, who had been detained on a Shwe Nadi express ferry 10 days ago, at around 6 a.m. on November 5 in Buthidaung township, AA spokesperson Khaing Thukha said.
The AA said that they stopped the Shwe Nadi express ferry running from Sittwe to Buthidaung on October 26. While they were splitting the passengers on the ferry into civilian and military groups, Tatmadaw soldiers shot at them from three helicopters.
Khaing Thukha said that the AA had released 25 civilians who the group had taken with them after the helicopter attack. The civilians were released at Ngwe Taung village in Buthidaung Township.
"We transferred 25 civilians safe and sound to the Ngwe Taung village administrator. We also gave them K15, 000 each to cover transportation expenses. We also gave back all their belongings, such as mobile phones," he said.
U Tun Aung Thein, a member of Pyithu Hluttaw from Buthidaung Township, said that officials from Buthidaung Township Red Cross Society and administration department were on their way to Ngwe Taung village to bring the civilians back.
Following the release the AA said it is not holding any more civilians.
"We still have some people who are associated with military. But since this issue is related exclusively with the military, we don't plan to reveal how many military officials we have with us," Khaing Thukha said.
State-owned newspapers mentioned that the AA had detained 14 Tatmadaw soldiers, 29 policemen, two staff from the Prisons Department and 13 civilians who were travelling on Shwe Nadi express ferry.
The AA stated that the Tatmadaw soldiers shot guns from three helicopters while AA forces were transferring some civilians and military officials to their boats, and the attack killed a lot of people from the ferry and several AA soldiers.
The Tatmadaw stated that 15 people escaped the attack but didn't mention how many people were killed.
According to state-owned newspapers, the Tatmadaw and AA statements, 58 people from Shwe Nadi ferry were detained by the AA.
As the AA released 25 civilians and 15 people escaped themselves, the remaining 18 people can be included in the groups who were killed or were in the hands of the AA.