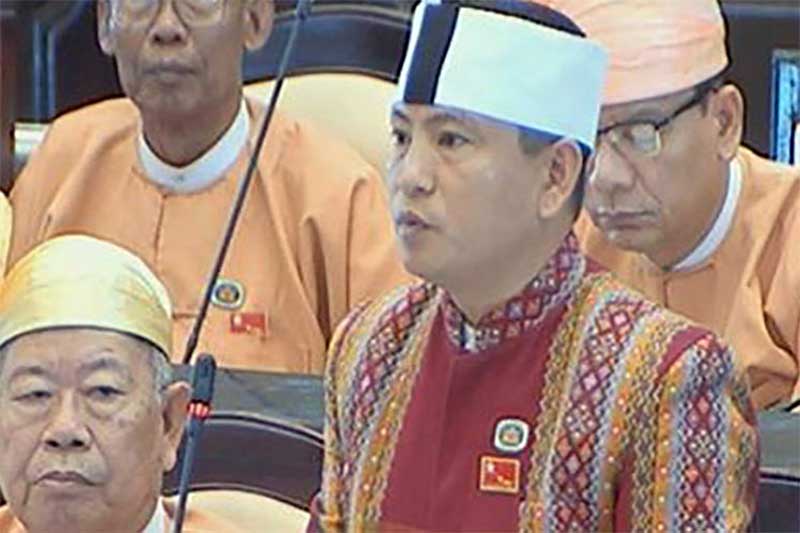 Myat Win Kyaw | DMG
6 November, Yangon
 
The Chin political party and civil society organizations have demanded on 5 October to release Chin ethnic people including an Amyotha Hluttaw MP who have recently been detained by the Arakan Army (AA).
Ten people including U Hwei Tin, Amyotha Hluttaw MP from National League for Democracy (NLD), and Indian nationals were abducted by the AA on 3 November and nine people were released the next day. But the AA has continued detaining U Hwei Tin for further interrogations for security reasons.
AA spokesperson Khaing Thukha said that U Hwei Tin had made accusations against the AA unfairly. 
"U Hwei Tin made continuous disparaging remarks and accusations against the AA unfairly by collaborating with Tatmadaw. He is among the top people who try to defame us politically while we have been struggling from all sides during the time of revolution," he said.
Khumi youths and Khumi Affairs Consultative Council (KACC) demanded an immediate release of U Hwei Tin and other people who have disappeared before.
Moreover, Chin National League for Democracy (CNLD) called for 'a quick release of abducted people for the sake of strengthening friendship between ethnics and to avoid unwanted racial conflicts'.
The AA has accused U Hwei Tin of spreading hate speech between Arakanese and Khumi people.
"U Hwei Tin spread provocative speech to foment racial and religious conflicts and hatred between Khumi and Arakanese people, the largest population in Paletwa Township. This is very precarious for locals," said Khaing Thukha.
On the other hand, CNLD says in its statement that there is no benefit for locals since the AA started entering Chin State in 2015, causing 10 deaths, 82 people were abducted and more than 4,000 people were forced to flee from their villages; moreover, people from the villages in Paletwa Township face difficulties.