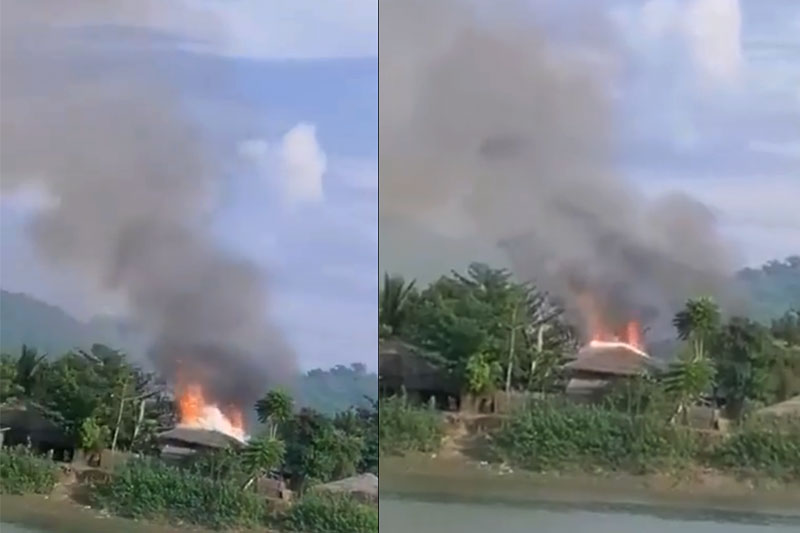 Khaing Roe La | DMG
November 6, Buthidaung

Some houses were burned down and two Muslim residents were injured by stray artillery shells at Thayat Pyin and Char Kay (Muslim) villages in Buthidaung Township. 

U Tun Aung Thein, a member of Pyithu Hluttaw from Buthidaung Township, confirmed that one house was burnt down at around 2 p.m. on November 6 at Thyat Pyin village.

"We can still hear the sound of gunfire. But we cannot find out yet what side it is coming from," he said.

Char Kay village was also hit by shells from weapons on the afternoon of November 6, and that damaged a house and injured two residents.

The residents in Thayat Pyin village have already left their village since last month because of the clashes, and nobody was in the village when artillery shells landed in the village. At the moment, no one can tell yet whose house was burned down.

Daw Thein Chay, who has fled Thayat Pyin village to an IDP camp in Buthidaung town, said that she heard that one house in her village caught fire by a stray artillery shell.

"We ran away from our village because we are afraid of staying during the fighting. But we always have planned to go back to our houses when the situation is clam and stable near our village. Now it will be difficult for homeowners who lost their houses," she said.