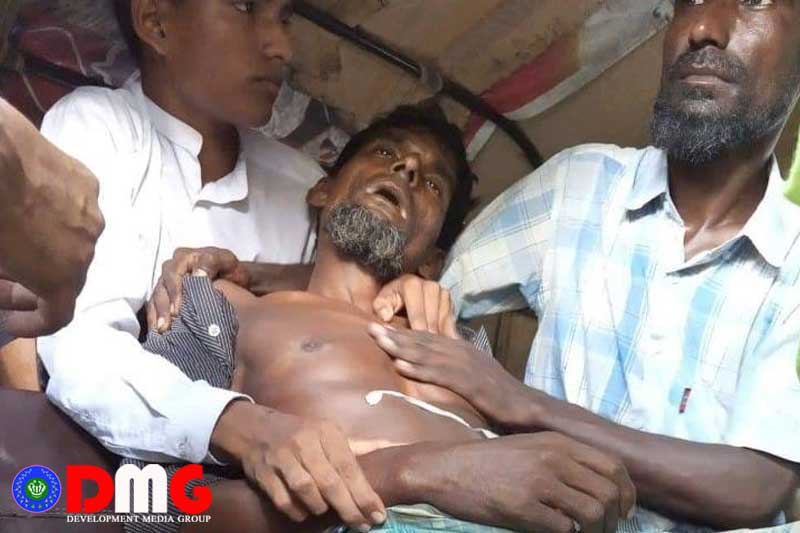 Cha Lu Aung | DMG
8 November, Maungdaw
Skirmishes between the Tatmadaw and Arakan Army (AA) occurred near Thayetpyin (Muslim) Village in Buthidaung Township, Arakan State. During the incidents, a youth from the village suffered from a gun shot at about 11 am on 8 November, and villagers fled.
The skirmishes are happening on three successive days, and both sides are still shooting at each other, said a local who fled from Thayetpyin Village.
"I don't know which side shot the youth. The injured youth was taken to the Buthidaung Hospital. Villagers are scared of crossing a creek via ferry to Kinchaung Village," said Mamet Zu Bai who left from Yechanpyin Village.
Mamet Husaung, 15, from Thayetpyin Village was sent to Buthidaung Hospital, and some 600 villagers ran away to safer locations.
Skirmishes between Tatmadaw and AA started on 6 November in areas around the village.
In the attacks, two villagers from Kyanyoppyin (called Char Kay in Muslim) were injured by gunfire on 6 November while an unconscious infant was sent to Buthidaung Hospital.
On 7 November, a resident from Phonnyoleik (Muslim) Village in Buthidaung Township was dead in firing.
Some houses where skirmishes broke out were destroyed by fire from artillery shells.