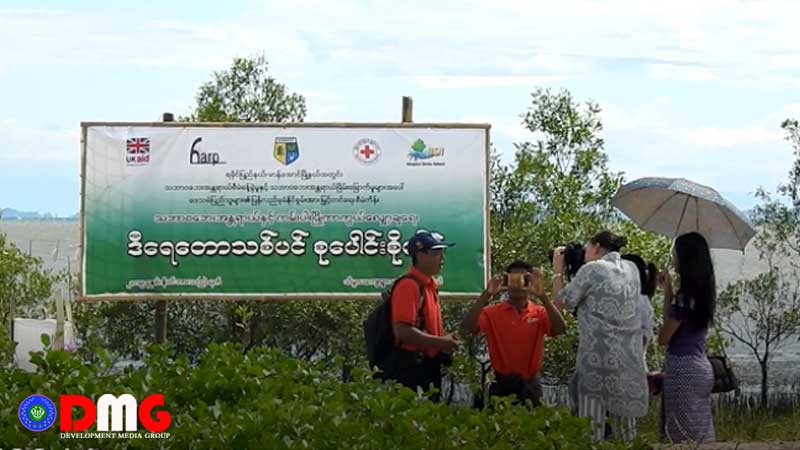 Aung Kaung Zaw | DMG
8 November, Manaung
 
Mangrove plants worth about K20 million were planted at seven mangrove forests including that of Theimbala Village in Manaung Township, Arakan State, staring on 7 November.
The activities were jointly organized by the Environment and Mangrove Forest Conservation Group (Harp) and Humanitarian Support Network (MSN).
U Than Htay, an official of the Environment and Mangrove Forest Conservation Group (Harp), said, "The growing of mangrove forests aims to prevent natural disasters as well as tidal waves and increase the population of fish and prawns in the region.
Mangrove plants will be grown on the beaches of Theimbala Village, Khaohnmaw, Tanhlaunggon, Khon Village, Buyay Myetpyagyi and Nga-in.
The official said that locals decided to cooperate with the organizations in nurturing the mangrove plants.
"We will give a helping hand to successfully growing the plants. Lack of mangrove forests causes landslides at some beaches in Manaung," said Ko Thet Moe Win, a local of Manaung.
Cultivation of Nipa plants will be more effective than mangrove plants in order to prevent natural disasters, said U Tun Min of Manaung.
"If Nipa plants are grown instead of mangrove plants, I think it will be more effective for the prevention of natural disasters as well as landslides," he said.
As Manaung region is a delta, it plays a key role in tasks of environmental conservation.
Severe storms and flooding killed more than 100 people in Manaung in 1935, and some villages moved to safer places.