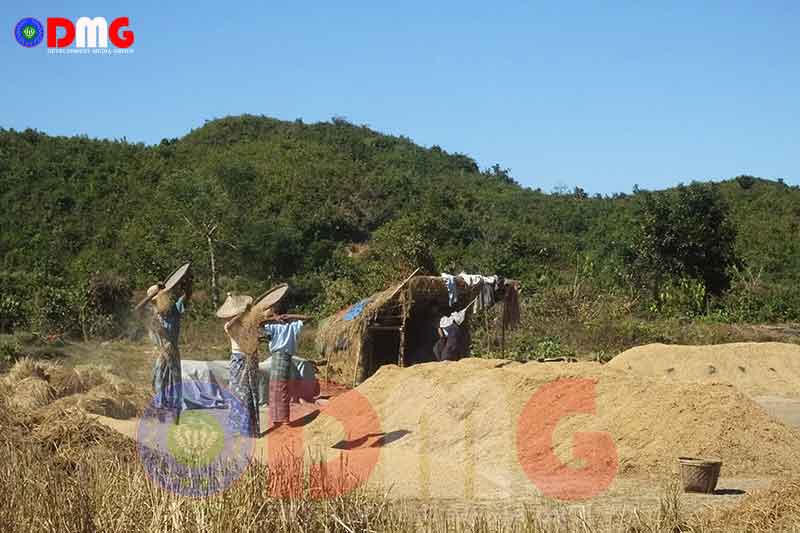 Khaing Min (Kyaukphyu) | DMG
15 November, Kyaukphyu
Paddy farmers from Kyaukphyu Township, Arakan State face difficulties due to low rice yield and volatile rice prices, as their paddy fields are destroyed by pests.
The local farmers attribute low rice yield and unstable rice prices to climate change. In addition, they get very low market prices for their rice and that causes problems, the local farmers from Kyaukphyu Township said.
"The weather has changed and day temperatures are rising significantly. Due to increasing day temperatures, rice cultivation in the township is affected by pests and poor soil quality, this leads to low rice yield, said Ko Naing Naing Tun, a rice grower from Malakyun Village, Kyaukphyu Township.
A nationwide increase in temperature of on average in Myanmar due to climate change is around 0.08°C per decade, said U Bo Bo Min, climate change analyst from United Nations Human Settlement Programmes (UNHSP).
The amount of rainfall is expected to increase in many areas. But some areas experience low rainfall, late arrivals and early departures of tropical storms and a shorter tropical season also affect agricultural businesses, he said.
Previously, per acre yield of rice was over 50 baskets. Now per acre yield of rice decreased to around 30 baskets, the farmers said.
"Per acre yield of rice has declined to nearly 30 baskets from around 50-60 baskets. The paddy fields are destroyed by insects due to intensifying day temperatures," said U Maung Kyaw Thaung, a farmer from Malakyun Village.
U Aung Khin Soe, an official from the Department of Agriculture said employees from the department are making field trips to some villages to educate local residents about growing seasonal crops, ensuring availability of quality seeds and increasing their income.
"We have set up seed production nurseries in Kyaukphyu Township to disseminate knowledge to local people about seed production technology to help them understand cultivation of quality seeds," he said.
There are 45,898 acres of paddy field in Kyaukphyu Township. Multi-technology model farms have been established in some village-tracts since 2016, according to the township Department of Agriculture.
Since productivity in rice cultivation has decreased when compared to previous years, rice growers are facing difficulties and calling for support from the appropriate departments.