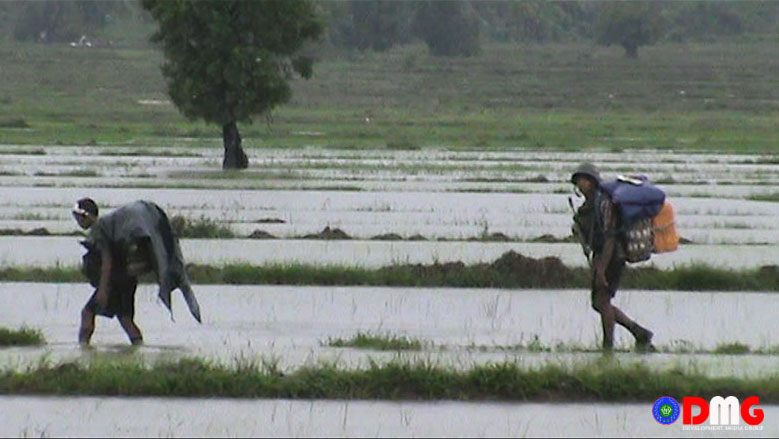 Khaing Roe La | DMG
November 20, Sittwe

The Arakan Army (AA) stated that nine people died and 13 people surrendered from the Tatmadaw, including a captain and a warrant officer, after fighting with the Tatmadaw on the afternoon November 19 in Paletwa Township, Chin State.

In the statement, the AA said the fight erupted between its forces and the Tatmadaw Light Infantry Battalion 313 based in Hmawbi, under Light Infantry Division 77, in the mountain behind Kama Creek in Paletwa Township. The AA said it detained 13 people, including the captain and warrant officer, and seized 13 weapons and some ammunition.

Colonel Win Zaw Oo from the Western Command said that AA's statement was "disinformation".

"That didn't happen. We had a ferocious fight in 2017 in Pakarwa, Meetikewa and Sadinwa in Paletwa Township. The AA just reposted the information from those fights. The reason they did this is because during the current fighting around Mrauk-U, Minbya and Kyauktaw they were beaten by us," he said.

The AA said in the statement that during the Paletwa clash its forces had followed and attacked Tatmadaw soldiers who ran away, and it did not yet know how many soldiers had been killed.

The statement also said that the AA attacked a Tatmadaw convoy of 11 vehicles carrying Tatmadaw soldiers near Ingyin and Hinkhayaw villages in Myebon Township at around 11am on November 19. More than 10 Tatmadaw personnel were killed in that attack, it said.

Colonel Win Zaw Oo confirmed that the AA had attacked the convoy but he said that there were no casualties and the vehicles had sustained only minor damage.

"Two landmines were detonated to damage Tatmadaw vehicles and some bomb fragments hit the vehicles. So there was some minor damage. None of the Tatmadaw personnel were injured or killed," he said.

The AA said that before the attack on the convoy the Tatmadaw had launched five helicopter attacks on the northern side of Ywartharyar village and beside Yaw Creek from around 11am to 5pm.

Villagers who witnessed the Tatmadaw air attacks said that they had heard sounds of fighting in the area before the air strikes.

Colonel Win Zaw Oo said helicopters may have launched the attacks because they had seen something suspicious in the area.


"When the helicopters are conducting drills, they may shoot if they see something suspicious," he told DMG.

Residents from Yoesanwin and Hinkhayaw villages fled to safe areas because they are worried about the helicopter attacks.