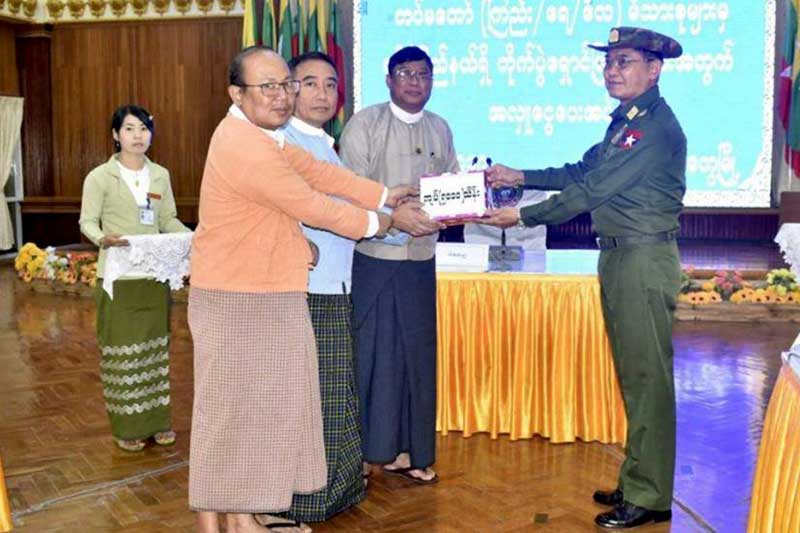 Win Nyunt | DMG
22 November, Sittwe

The Arakan State Minister received Ks. 500 million of cash assistance from the Tatmadaw for internally displaced persons (IDPs) who left their homes due to ongoing fighting in the region. The Chief Minister is travelling to some areas to oversee developmental tasks, said U Win Myint, Municipal Affairs Minister and Spokesperson for the local government.

"We don't know how to use the Tatmadaw's cash contribution as of now as the Chief Minister has yet to arrive back," he said.

Chief Minister of Arakan State U Nyi Pu visited Thandwe, Taungup and Gwa Townships to inspect regional developmental tasks and hold the meetings with local people from 16 to 22 November.

On behalf of the local government, Arakan State Ministers U Kyaw Aye Thein, U Kyaw Lwin and U Win Myint accepted the cash aid presented by Lt-Gen Win Bo Shein and high-ranking military officers from the Commander-in-Chief of Defence Services (Army) Office. The donation was held at the meeting room of the local government office in Sittwe on 20 November.

The Tatmadaw's cash assistance is a gesture of responsibility and sympathy towards the IDPs in Arakan State, Ko Zaw Zaw Tun, Secretary of the Rakhine Ethnic Congress (REC) commented.

"The Tatmadaw is responsible for the displacement of local people as a result of the armed conflicts in Arakan State. The Tatmadaw's contribution shows its empathy towards IDPS. The urgent need now is to focus on civilian casualties to prevent other IDPs from similar fates in the future," he told the DMG.

There are over 88,000 IDPs in Arakan State and the number of IDPs may rise above the actual figure, according to the Rakhine Ethnic Congress (REC) that compiled the list of IDPs in Arakan State.

Previously, Mrauk-U Sayadaw donated Ks. 100 million for the IDPs in Arakan State through the local government.

"The local government should check whether relief supplies and cash assistance go to IDPs" Ko Zaw Zaw Tun said.

In addition, there is growing concern for Arakanese people over the statements on the Arakan issue released by the Tatmadaw, he added.

He continued that "Sometimes, the Tatmadaw's True News Information Team said all villagers are reportedly members of the Arakan Army (AA). Local people feel scared when they see the Tatmadaw troops entering their villages because they are accused of being members of the Arakan Army. Hence, local residents run away when Tatmadaw troops enter the villages because they are afraid of being questioned by the Tatmadaw."

The Tatmadaw said it conducted queries of local people in some villages to ensure the rule of law. In reality the Tatmadaw used physical force and kept some local residents in the sun as a punishment by using inappropriate language and racial slurs while questioning villagers. But the Tatmadaw never admitted to such actions, he said.