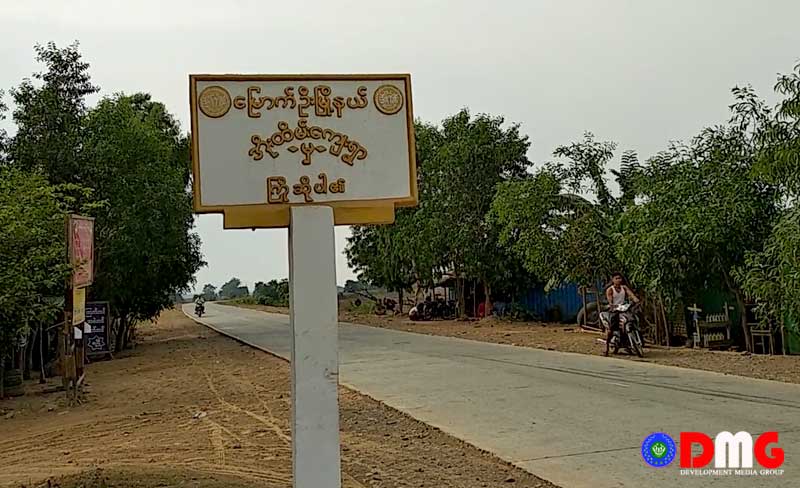 Khaing Roe La | DMG
26 November, Mrauk-U
 
A Tatamadaw troop entered Ohe Htein village in Mrauk-U Township on 26 November and interrogated villagers assembled in the village monastery, villagers said.

The military column, at about 8 a.m., came from Mt. Linn Mway and checked houses in the village and summoned male villagers to the monastery for questioning.

"The military came from Mt. Linn Mway, during their journey they shot off five rounds of ammunition, then entered the village. They raided homes they suspected housed questionable people. They are now interviewing villagers at the monastery," said a villager. He fled from the village because he was afraid of being queried by the Tatmadaw.

Villagers were summoned in the morning and they did not arrive home till lunch time, which made their family members concerned about their safety.

"All men in the village, young and old, were assembled at the monastery and have yet to return home," a woman from the village said.

Colonel Win Zaw Oo, head of the Western Command, said that military troops were attacked very often near Ohe Htein village.

"Our troops were ambushed or encountered a rocket attack very often near the entrance of the village. An informer from the village gave information that there were rebels in the village and they were living in the village," Colonel Win Zaw Oo said.

Villagers are anxious about their safety because of the examinations by Tatmadaw troops.

"We are worried that they did as they pleased while searching houses. And we are worried about being tortured," a villager said.

The Tatmadaw have recently conducted searching in villages, forced villages from their homes, increasing the number of IDPs. The current number of IDPs has reached about 100,000 in Arakan State.

On 20 September, abbot of Ohe Htein village monastery Bhandanta U Kawidaza, village administrator U Wai Soe Tun and driver U Maung Thar Sein were arrested by a military column near Mt. Linn Mway. They have been detained in Sittwe police station and interrogated.