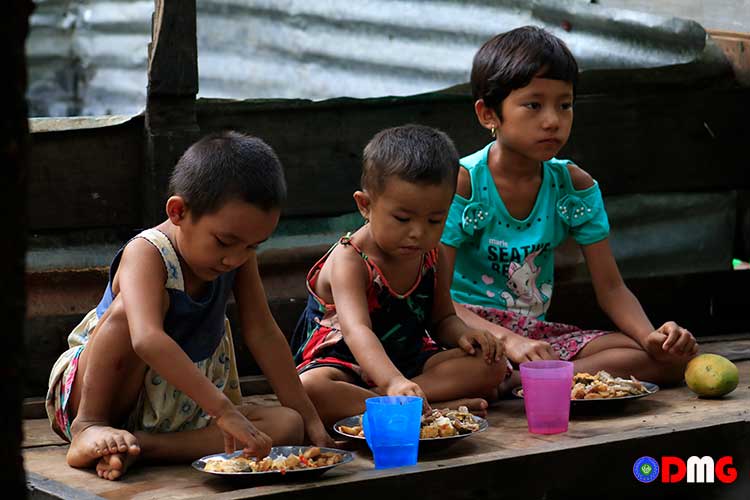 Khaing Roe La and Wuntha (Maungdaw) | DMG
30 November, Sittwe
 
More than 600 displace people arrived at Shwe Phaung Tin monastery in Minbya Township's Pan Myaung village on 27 November due to recent clashes that occurred near Kyaung Taung village in Mrauk-U Township.

Pan Myaung village provides aid for Kyaung Taung villagers, but the camp's food stock has diminished while no aid is provided from any other organizations, said U Myo Khaing Tun, secretary of Pan Myaung Charity Group.

He asked for help from relevant authorities for the displaced people, but no response has been received yet, he added.

"I brought up the current situation to the Minbya Township administration office. But, no one would come and see first hand," he said.

Kan Pyin refugee camp in Rathedaung Township also needs food as more IDPs enter the camp.

"The camp has been established for more than five months. The Ministry of Social Welfare, Relief and Resettlement provided aid two times so far," said U Maung Thein Tun, manager of the camp.

The DMG phoned Minbya township administrator U Tun Nyein Naing to seek comment for the camps, but he could not be reached.

Now 400 people are taking shelter in Kan Pyin IDP camp. People from 31 villages from Rathedaung Township have been displaced from homes due to fighting between the Tatmadaw and the AA.

There are 26 places where refugee camps are open in villages from Rathedaung Township, according to U Aung Myint Thein, administrator of Rathedaung Township.

"There are 26 refugee camps in villages in our township.  The government is building two camps in Khanaung Gyi and Ywar Thit Kay villages. The construction is 50 percent complete. People cannot stay there. The Ministry of Social Welfare, Relief and Resettlement is providing aid for IDPs," Rathedaung township administrator said.

Over 2000 refugees are taking shelter in ten IDP camps in Rathedaung town that are open in monasteries such as Danyawady, Pyi Lone Chan Tha, Sasana Beikman, Shwe Kyin, Zawtiparla, Dhammar Yone, Pober Yone, Kein Thar Dhamma and Parahaitta. About 17,000 refugees are taking shelter in 26 camps in villages in Rathedaung Township, according to Rathedaung Parahita Association.
The fighting between the Tatmadaw and the AA in Arakan State has been about a year, increased the number of displaced home due to clashes to over 93,000, according to the recent figures of the Rakhine Ethnic Congress (REC).