New Junta, New Cyclone; Same Anti-Aid Problem
By Admin 29 Jun 2023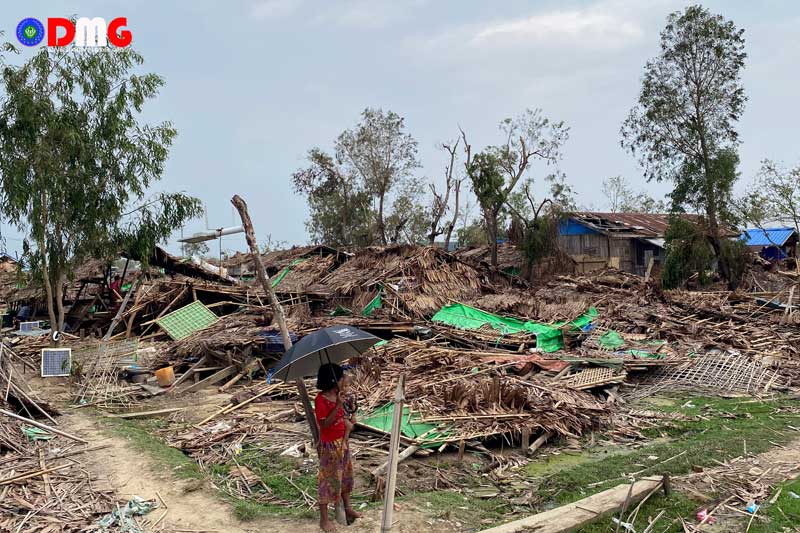 Written by Maung Khaing Tun (Pyi Thit)
The devastating cyclone that hit Arakan State on May 14 inflicted massive property damage in five townships of Arakan State, leaving many people homeless. This storm is the second largest natural disaster in Myanmar after Cyclone Nargis hit the Ayeyarwady Delta region in 2008.
Cyclone Nargis killed more than 130,000 people mostly in Ayeyarwady Region, and dictator U Than Shwe prevented international aid and rescue operations from entering Myanmar, and because the information about the death and destruction was erased, the people did not receive international assistance for emergency aid and rehabilitation.
Today, most of the northern townships of Arakan State have been decimated by Cyclone Mocha. More than a month after the storm, there are still many people who have not received any assistance at all, and since the rainy season has only just begun, the needs of those affected by the storm are increasing.
The junta prioritises building political influence rather than attending to the people's needs, and civil society organisations are still working with many difficulties because they are controlled by the Registration of Associations Law.
Myanmar's military regime has imposed a travel ban on local and international nongovernmental organisations and civil society organisations providing humanitarian assistance to victims of Cyclone Mocha in Arakan State. Its actions will certainly disrupt emergency relief operations to a significant extent.
Does this order want to stop the relief organisations? Or whether there are other reasons is still unclear. After Cyclone Mocha struck, the United League of Arakan/Arakan Army (ULA/AA) announced that international organisations should come in to help, and the junta also announced that more than 200,000 homes had been destroyed by the storm.
It remains to be seen whether the military will try to stop the aid at a time when the people have not been able to restore temporary shelter, food, and drinking water. In any case, the government should definitely not do anything to affect the emergency relief work at this time. Humanitarianism is not politics. It is certainly not a good sign for the affected people that this order is coming to organisations that work to provide emergency aid at a time when the country needs to help one another.
Representatives of the junta's National Solidarity and Peace Negotiation Committee (NSPNC) and from the tripartite military alliance formed of the Arakan Army, Ta'ang National Liberation Army (TNLA) and Myanmar National Democratic Alliance Army (MNDAA) held talks on June 1 and 2 in Mongla, an area controlled by the National Democratic Alliance Army in eastern Shan State. At the meeting, the AA demanded that international organisations and local civil society groups be allowed to freely provide humanitarian aid supplies to storm-hit communities. The three ethnic armed organisations demanded that their members currently detained by the junta be released, and demanded that they be removed from the list of unlawful associations.
The junta imposed its travel ban on local and international organisations one week after the Mongla talks. Whether this is a follow-up grudge stemming from the Mongla talks, it is not yet possible to say. The junta has also reportedly warned some charities that donations from charitable organisations must flow through a state-level committee.
In order to help storm victims, some charitable organisations have tried to get permission from junta authorities to collect donations, but they have been banned from collecting donations, according to reports from residents. It is obvious that the junta has set limits on social organisations from the beginning in terms of providing assistance to storm victims.
If the regime really wants to build a federal democratic union, it must hold a dialogue that includes all ethnic armed organisations. The armed revolution in this country is not going to end just because the regime is negotiating with a Northern Alliance, and there is no question of the emergence of a federal democratic union. The Northern Alliance already knows that the current political turmoil in Myanmar cannot achieve significant change through political discussion alone.
What is said is that it is questionable whether China wants a situation where it can be realistic to act as the peace architect of Asia. It is also possible that China wants to control the influence of Western countries in Myanmar's politics, and may be doing some kind of intervention. For example, we see China's intervention in the repatriation of Muslims who fled from Arakan State, and it is only a show-off.
China, which has many interests in Myanmar's politics, will continue to implement the bamboo bending with the wind policy, but also dealing with the Myanmar military in the best possible way. China already knows that without the practice of building trust and cooperation, no peace politics can be discussed.
If the junta really wants peace in Arakan State and has the political will, it must create some conditions to cooperate with the AA during this time of natural disaster response, when people need help. The junta's desire to hold political talks with ethnic armed organisations without the desire to do food aid and rehabilitation in this difficult time is just a show.
This is not the time for political discussion and the AA, which has the full support of the Arakanese people, is focusing on the people's rehabilitation. It is obvious that this discussion was conducted without an agenda. China also sees Myanmar's military as a situation where there is no need for such an approach. It is certain that China still needs a lot of time to negotiate peace between the junta and the armed resistance forces in Myanmar.
Based on the results of the Mongla talks, the junta's imposition of a travel ban on local and international organisations providing relief items to storm victims in Arakan State may be taking a chance in a time of crisis for the people, and the humanitarian ceasefire commitment that has been established in Arakan State will not last long.
The international community should try to find ways to help the many people who now are homeless during the rainy season, and civil society organisations should also find ways to quickly get support to the affected people. However, if the junta's restrictions are intentionally limiting international organisations' assistance to the people affected by the storm, it will make it more difficult for the people who are suffering. For the AA, this action will create pressure and make it difficult to respond.
Looking at this situation, the junta will prioritise the survival and victory of the military over the best interests and goodwill of the people. It is still too early to say whether the junta will be able to use the current crisis in Arakan State as an opportunity, but it is even more impossible to predict that it will not.
In any case, because of the situation in Arakan State, Arakanese people must help each other to rebuild their homes destroyed by Cyclone Mocha, and getting immediate assistance is the most important thing at this time. As an international community, it is necessary to find other ways to overcome this difficulty and to work urgently to provide emergency aid as soon as possible.