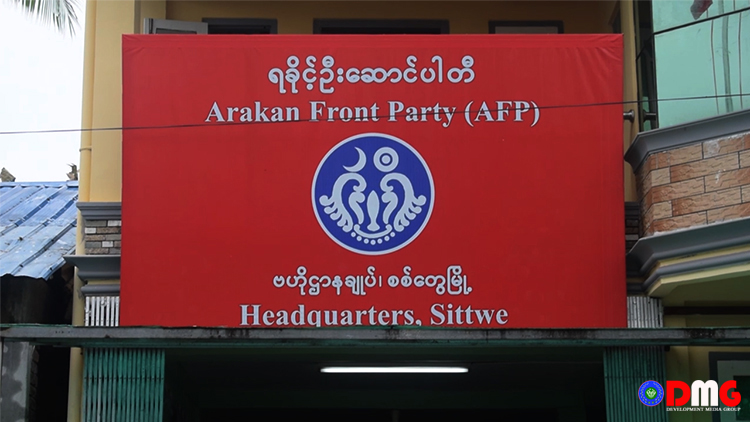 Khin Tharaphy Oo | DMG
May 26, Sittwe

The Arakan Front Party (AFP) will progress along a nationalist path at the pace that Dr Aye Maung sees appropriate because it is a political party set up under the instructions of the former lower house MP, said U Kyaw Lwin, vice chair of the AFP and state MP for Kyauk Phyu Township.

"Currently, Arakan people have lost their faith in political parties. So, we'd like to say to our constituents that our party is different from other political parties and we will move in the proper direction of national politics," U Kyaw Lwin said.

"Our party is formed under the leadership of Dr Aye Maung. What we can guarantee is that our party will go forward along the nationalist path that Dr Aye Maung wants to proceed," he said.

The AFP has over 1500 members from eight townships in Arakan State. Its headquarters was opened in Kyaung Tet Lan ward in Sittwe on May 25.

Dr Aye Maung, who established the AFP, has recently been sentenced to 20 years imprisonment for incitement and high treason for his remarks at a literature talk held in Rathedaung Township.

Currently, the chairperson of the AFP is U Khin Nu. U Kyaw Lwin is working as vice chair of the AFP and U Soe Win is secretary of the party.

U Kyaw Lwin said that the incumbent central executive committee is a temporary team.

"We currently formed the CEC with 11 members although it should have 17 members according to the composition of the party. We are now taking responsibility for Dr. Aye Maung's post since he has been incarcerated, upon his return to the CEC he will take up his position again," he explained.

"We left some posts in the CEC vacant so that when Dr Aye Maung comes back he can assign people he wants to work with," he added.

U Kyaw Lwin said the AFP is going to participate in the upcoming 2020 election and he is anxious about the upcoming election because of the ongoing clashes in Arakan State.