Report on Arakan from January to April 2021
The first fourth months of 2021 in Myanmar were dominated by fallout from the military's February 1 coup d'etat, after a relatively unremarkable January. Below we recap some of the major storylines and events out of Arakan State at a time of historic developments and unprecedented challenges. 
30 Apr 2021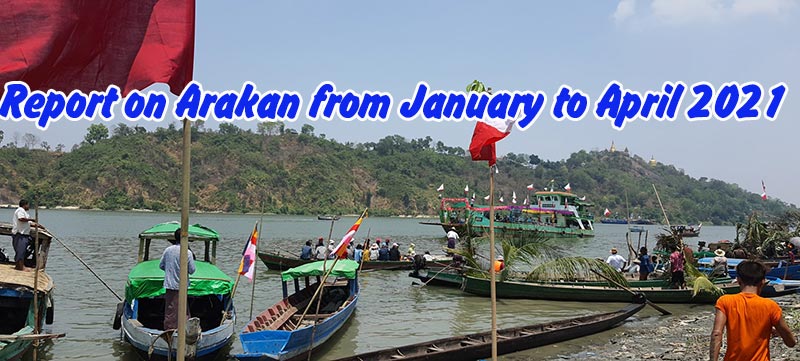 The first fourth months of 2021 in Myanmar were dominated by fallout from the military's February 1 coup d'etat, after a relatively unremarkable January. Below we recap some of the major storylines and events out of Arakan State at a time of historic developments and unprecedented challenges. 
January 
The year in Arakan (Rakhine) State began with promise as dialogue between the Tatmadaw and Arakan Army continued, leaving observers optimistic about prospects for peace after more than a month without clashes between the two sides. The National League for Democracy (NLD) government was transitioning to another five-year term, with its de facto leader Daw Aung San Suu Kyi signalling willingness to try "new approaches" to a peace process that some had described as moribund. 
Part of those discussions included negotiations over the release of three former NLD candidates who were abducted by the Arakan Army on October 14. They were freed on January 1, bringing an end to a saga that had stood as one of the most tarnishing aspects of the 2020 general election. 
There continued to be reports of large-scale returns of IDPs to their places of origin, but with attendant concerns including lack of livelihood prospects in home villages, intimidation and related coercion, and criticism about a failure by relevant governments to assist with said returns. A gradual reopening of certain transport links that had been blocked due to the regional conflict was also reported. 
But while military tensions appeared to ease across Arakan State, areas plagued by the conflict for some two years had battle scars and ongoing wounds, including a rising civilian casualty count due to landmines and other explosive remnants of war (ERW). Even as hopes for a sustainable peace have risen, it is clear that the war-wracked region will continue to grapple with the post-conflict consequences wrought by the belligerents. 
That includes questions as to what will happen to the hundreds of people detained and often charged for allegedly illegal affiliation with the Arakan Army. For this reason and others, peace process stakeholders pointed to the continued designation of the Arakan Army as an "unlawful association" and "terrorist group" as a major stumbling block to ongoing peace negotiations. 
COVID-19 infections were reportedly in decline after months of rising case numbers stemming from an outbreak or "second wave" of the virus, which began in Arakan State in mid-August 2020. And an end to the pandemic nightmare came into view, albeit at significant distance, as talk turned to how the COVID-19 vaccine would be rolled out in Myanmar. Schools were also told to prepare for a return to the classroom, after in-person instruction was suspended nationwide in August. 
February 
The Tatmadaw staged a coup in the early hours of February 1 — the same day Myanmar's newly elected parliaments at the state/region and national levels were set to be sworn in. The military detained Arakan State Chief Minister U Nyi Pu, Arakan State Minister for Social Affairs Dr. Chan Tha and Arakan State Minister for Electricity, Industry and Road Transport U Aung Kyaw Zan. The military also took into its custody the Speaker of the Arakan State Parliament, U San Kyaw Hla, and Lower House MP Daw Khin Saw Wai, releasing the latter the same day. 
Dr. Aung Kyaw Min, a former Arakan State social affairs minister under ex-President Thein Sein's government, was appointed chair of the Arakan State Administration Council on February 2. The national-level State Administration Council (SAC) was formed the same day, with the junta citing Article 419 of the 2008 Constitution as granting it the authority to do so. Also on February 2, the Tatmadaw released U Nyi Pu, Dr. Chan Tha and U Aung Kyaw Zan. 
On February 5, the Committee Representing Pyidaungsu Hluttaw (CRPH) was formed as a defiant response to the Tatmadaw's seizure of power. Like the national legislature that was not allowed to convene, most of the committee's members are NLD. 
The Arakan National Party (ANP) signalled its willingness to cooperate with the junta, controversially allowing senior party figure Daw Aye Nu Sein to take a seat on the SAC and subsequently saying it "would work together with the current Tatmadaw government as necessary." Resignations began as some who did not agree with the ANP's regime cooperation decided to leave the party in protest. 
As nationwide street protests and other forms of civil disobedience began to gain momentum in the weeks following the coup, Arakan State was noted for its people's relatively muted response to the military takeover. Still, several people were arrested for their participation in anti-coup demonstrations. U Min Aung, a former state development minister and NLD member, was one of the detainees, and less than two weeks after he was released from house arrest, former Arakan State Chief Minister U Nyi Pu was again detained, this time at an undisclosed location. 
But one of the biggest stories in Arakan State involving inmates was actually the release of two high-profile prisoners — Dr. Aye Maung and Wai Hun Aung — who were both serving 20-year sentences on charges of treason and sedition. For many people in Arakan State, the two men's prosecution and convictions in 2019 were widely seen as politically motivated. Their release as part of a mass amnesty on Union Day, February 12, elicited expressions of gratitude from Dr. Aye Maung during an interview with DMG, with those comments standing in stark contrast to the general anti-Tatmadaw sentiment of the times. 
For a more granular look at the view from Arakan State during Myanmar's first month under the military regime, see our recap here. 
March 
As Myanmar entered its second month under a return to military rule, Arakan State remained relatively quiet compared with much of the country, where dozens of arrests and numerous killings were reported daily as anti-regime forces continued to take to the streets as well as organising in more subtle and creative ways. One manifestation of the political turmoil gripping Yangon was livelihood hardship for many of the Arakanese migrant labourers working factory jobs in the commercial capital, as protests and a situation verging on anarchy severely disrupted manufacturing operations. 
On the governance front, evidence of the opposition movement surfaced in Gwa Township, where a local "people's administrative body" was created following a CRPH announcement of the formation of an interim government to challenge the junta's legitimacy. Authorities in Arakan State began checking overnight visitors in accordance with a controversial legal provision that was reinstated by the junta. 
The chair of the NLD in the state capital Sittwe resigned from the party on March 3. Though citing poor health, his decision to step down came amid increasing consequences for NLD affiliations at the hands of the military regime. 
Apart from coup-related affairs, casualties from landmines and explosive remnants of war continued to be a recurrent concern in much of rural Arakan State. 
On March 11, the SAC announced that the Arakan Army had been taken off the list of designated terrorist groups, a major move that reflected the months-long détente between the two sides. From DMG's standpoint, the de-designation was enough of a signal that we felt comfortable seeking comment from the Arakan Army for the first time since shortly after the ethnic armed group was declared a terrorist group in March 2020 (when news outlets began facing legal action for talking to AA sources). A story in which the AA spokesperson condemned the military regime's "inhumane acts" as "unacceptable" was DMG's first quoting of an AA official since April 2020, and his words helped shed light on the group's stance vis-a-vis the junta.  
A fire devastated the Tin Nyo IDP camp in Mrauk-U Township on March 17, reducing 663 temporary shelters to ash and affecting more than 2,500 people. IDP issues — from supply shortages to IDPs feeling pressured to return home prematurely — continued to be a major topic of DMG's reporting throughout the first quarter of 2021. Though active conflict between the Tatmadaw and Arakan Army may be a thing of the past, the issues affecting tens of thousands of displaced people will remain newsworthy for some time to come. 
April 
By April, the regional economy began to feel the bite of the national political upheaval, with prices reportedly rising for commodities and construction materials, while other sectors of the economy such as the seafood industry — a major employer and source of revenue in Arakan State — struggled under the weight of slumping demand. rials for those accused of illegal ties to the Arakan Army continued to make their way through the courts, including one case in which a 65-year-old defendant died before the court could return a verdict. Another case, in Chin State's Paletwa Township, saw two men acquitted in a ruling that the families of others similarly accused hope will become an increasingly frequent outcome. And nearly a year after being arrested and charged under the Counter-Terrorism Law, four men including the chair of the Taungup Township Development Affairs Committee and a local ANP vice chairman were acquitted in one of Arakan State's most high-profile cases in recent years. What happens with the remaining AA-related trials will be something to watch in the months to come, given the obvious tension between the Arakan Army's "terrorist group" de-designation and ongoing prosecutions of those accused of illicit AA ties. 
Other ethnic armed groups, including Nationwide Ceasefire Agreement (NCA) signatories such as the Karen National Union, became more vocally opposed to the coup and its bloody aftermath, especially as Tatmadaw attacks on ethnic regions in Myanmar's north and east resumed. The CRPH announced the formation of a National Unity Government (NUG) to stand in opposition to the military regime, a move that was welcomed by many in Myanmar, including the All Arakan Students' & Youths' Congress. 
And as the rainy season approached, attention turned to the dilapidated shelters that often constitute a significant share of housing at IDP camps in Arakan State. There was good news at fire-ravaged Tin Nyo IDP camp, where 400 replacement houses were built within about a month of more than 600 shelters burning to the ground. 
The state of press freedom has been a growing concern over the course of the first three months of military rule. By April 19, the number of journalists arrested stood at 70, and that tally continued to tick higher as Myanmar closed in on May. In Chin State's Paletwa Township and some Arakan State townships, the regime confiscated and banned the sale of satellite dishes used to access broadcasts from several local independent news outlets. Ethnic media have not been spared in the targeting: The office of The Hakha Post in Chin State was raided in early April, and the Myitkyina News Journal in Kachin State said it was suspending publication after its publishing licence was revoked effective April 29.