2020: An Arakan Year in Review
In a year dominated by the COVID-19 pandemic and its far-reaching health, social and economic impacts around the globe, Arakan State was no different. The viral menace came as a serious blow to Arakan's people, many of whom were already displaced and distressed by armed conflict in the region.
01 Jan 2021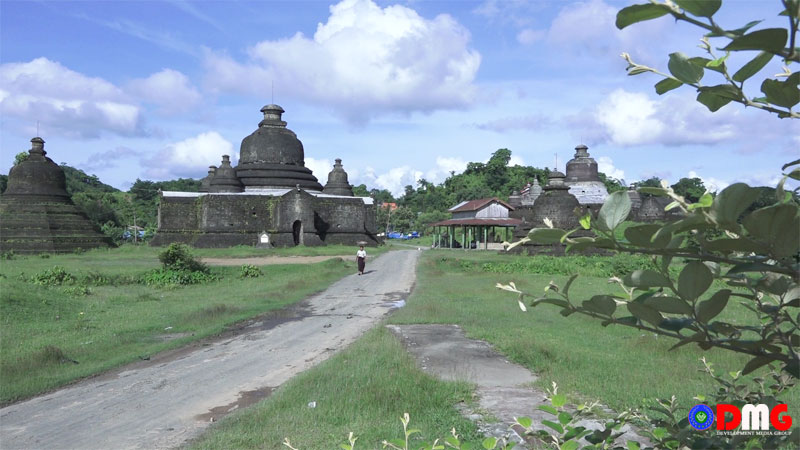 By DMG Newsroom
In a year dominated by the COVID-19 pandemic and its far-reaching health, social and economic impacts around the globe, Arakan State was no different. The viral menace came as a serious blow to Arakan's people, many of whom were already displaced and distressed by armed conflict in the region.
Here DMG takes a look back at the pandemic and the significant political and peace developments that helped shape life in Arakan State, where one of the toughest years in recent memory ended with glimmers of hope but much uncertainty and many challenges remaining. 
Student activists at forefront of human rights advocacy
It has been two years since fighting erupted between Myanmar's military and the Arakan Army (AA). More than 300 civilians have been killed and over 600 more were injured in clashes, and at one point an estimated 236,000 people were displaced by the conflict in Arakan State.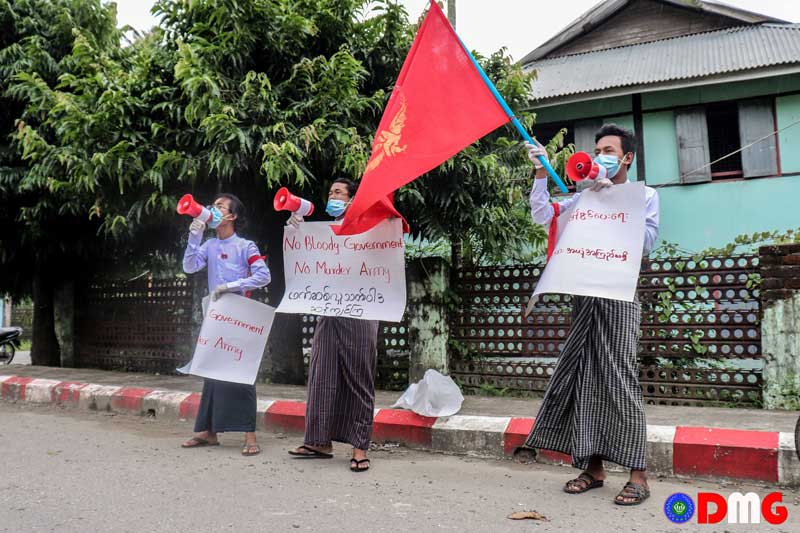 Hostilities intensified in early 2020, followed by a spate of human rights violations. Students from the Arakan Students' Union staged a protest on September 9 in front of the state government offices against human rights abuses, and called for an end to the war in Arakan State. Three student leaders were arrested after the protest.
The following day, students from the All Burma Federation of Student Unions staged a similar protest in Mandalay. Participants there too were arrested and criminally charged. Some of the students were subsequently sentenced to years in prison, while others are still facing trial.
Voters disenfranchised in most of Arakan State 
The general election was held nationwide on November 8, but the Union Election Commission (UEC) cancelled the vote in the entireties of Buthidaung, Maungdaw, Rathedaung, Pauktaw, Ponnagyun, Kyauktaw, Mrauk-U, Minbya and Myebon townships, saying conditions were not conducive to holding the polls in those townships.
Moreover, elections were cancelled in four village-tracts in the state capital Sittwe; in two wards and 49 village-tracts in Kyaukphyu; three wards and 25 village-tracts in Ann; and 10 wards and 52 village-tracts in Taungup. Out of about 1.6 million eligible voters, more than 1.2 million were disenfranchised on November 8.
Demands for make-up elections
The Arakan Army urged the National League for Democracy (NLD) government and the Tatmadaw to hold elections before December 31 in northern Arakan State, where voting was cancelled. Within hours of the statement being issued on November 12, the military welcomed the AA request.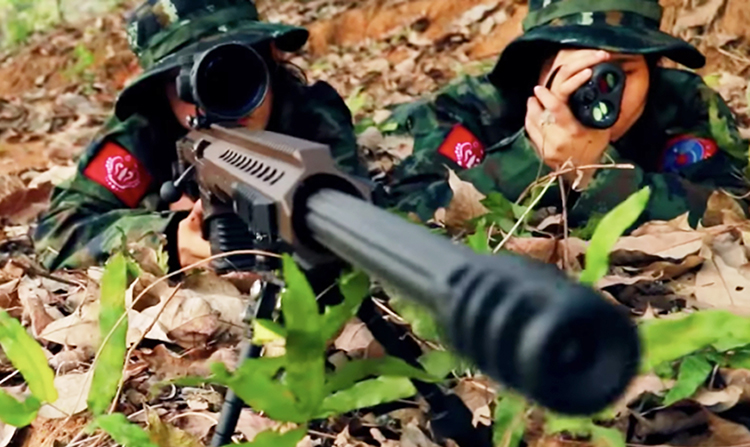 Japanese Ambassador to Myanmar Ichiro Maruyama credited Yohei Sasakawa, Japan's special envoy for national reconciliation in Myanmar, for helping build trust between the Tatmadaw and the AA. On November 28, the Japanese envoy visited Buthidaung and Kyauktaw townships, where voting was not held a few weeks earlier. Sasakawa said based on his observations, the election could be held in those disenfranchised constituencies, downplaying any ongoing security concerns in the affected townships.
Furthermore, the locals wanted the election to be held, he added. 
The Japanese government's special envoy subsequently told the media that he was disappointed with the Union Election Commission's unfavourable response regarding his support for holding make-up elections in no-voting parts of Arakan State.
Internet freedom remains a concern
On August 1, the Ministry of Transport and Communications restored 2G internet access in Buthidaung, Rathedaung, Ponnagyun, Kyauktaw, Mrauk-U, Minbya and Myebon townships in Arakan State, and Paletwa Township, Chin State, which had been denied online connectivity for more than a year. Internet access had been blocked in the eight Arakan State townships and Paletwa Township of Chin State since June 21, 2019. The internet blackout had also applied to Maungdaw Township, with access there restored earlier, on May 2 of this year.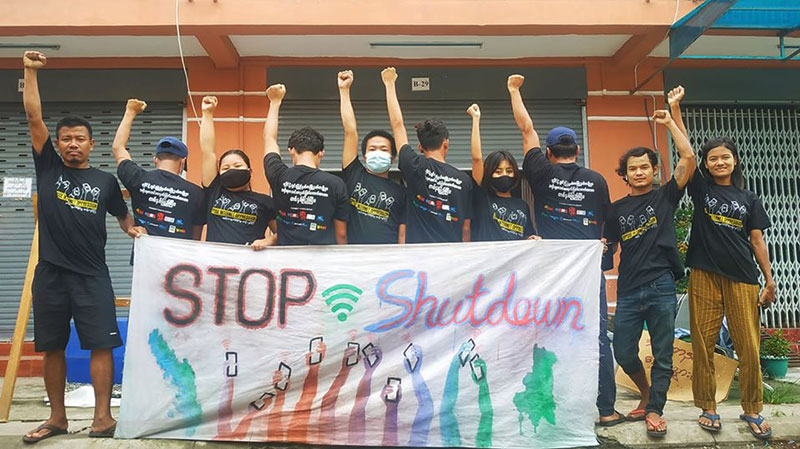 But locals say the current 2G internet connection is little different than the previous, full internet blackout. Connections on the 2G network are too slow to execute even basic functions such as loading email, critics say, adding that such restrictions set back those in the affected townships by limiting their employment and educational opportunities, as well as making it difficult to obtain information on important matters such as the COVID-19 pandemic. 
Coronavirus 'second wave' with origins in Arakan
COVID-19 was not merely a public health concern; as the pandemic dragged on, it increasingly impinged on the economic well-being, and social and political affairs, of Arakan State's people. 
A second wave of the virus was first detected in Arakan State in mid-August. Since then, the number of confirmed COVID-19 cases has risen steadily in Arakan State, with doctors and other health workers among those infected. Travel restrictions and stay-at-home orders severely crimped economic activities, including border trade and tourism.
As of December 25, there were 4,046 confirmed cases of COVID-19 in Arakan State, with 3,756 recovered patients discharged from hospitals, 257 patients being treated at hospitals and 34 dead.
Saga of 18 missing villagers in Kyauktaw Twsp will carry over into 2021 
Eighteen villagers from Tinma Gyi and Tinma (Thit) villages in Kyauktaw Township were arrested by a Tatmadaw contingent in March, according to family members.
They were detained by security personnel from the Tatmadaw's Light Infantry Division No. 55, who were stationed on Taungshae Hill near the Tinma villages. Seeking their release, the missing villagers' families and local lawmakers sent two separate complaints to the president and state counsellor, and the Myanmar National Human Rights Commission, to no avail.
In September, the Ministry of Defence replied to the Myanmar National Human Rights Commission, claiming that the Tatmadaw had not arrested any Tinma villagers.
As the year wound down and the Tinma villagers remained missing more than nine months after their disappearance, the Mrauk-U District police appeared to take up their case and in doing so raised hopes for a potential resolution, with local law enforcement questioning the villagers' families and eyewitnesses to their detention. 
Three NLD candidates abducted by Arakan Army
Three National League for Democracy (NLD) candidates in Taungup Township were abducted by the Arakan Army while on the campaign trail in October.
"We will release the three of them if the NLD government release [sic] politicians, students and innocent people without exception who have been arrested and detained unlawfully for demanding peace," said an AA statement on October 19.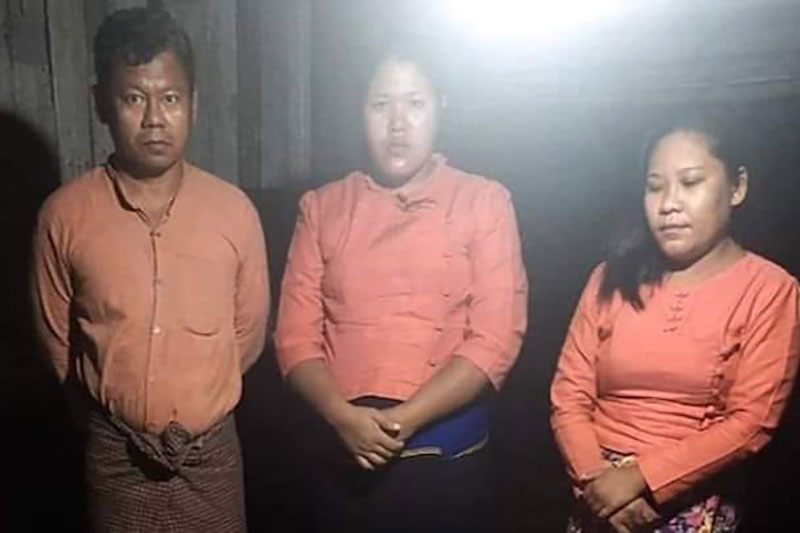 The Arakan National Party (ANP) went on to win all three seats in Taungup Township, prompting some NLD leaders to cry foul, claiming that the races there were unfair due to the abduction of the NLD candidates.
(Editor's Note: On January 1, 2021, the Arakan Army reportedly released the three NLD candidates.)
Glimmers of hope for peace
The year closed with an unexpected and welcome reversal in what had been a trend toward steadily escalating conflict in Arakan State for much of 2020. Since the November 8 election, the guns have largely fallen silent, and representatives of the Tatmadaw and the Arakan Army have struck up a meaningful dialogue for the first time. On December 9, delegates from both sides met in Panghsang, a border town in northern Shan State controlled by the United Wa State Army.
Political analysts say the talks are a turning point for peace in Arakan State.
For humanitarian aid workers and organisations on the ground, the détente comes not a moment too soon. Due to the conflict, the number of internally displaced people (IDPs) in Arakan State topped 230,000 in October, before falling to below 200,000 as IDPs have returned to their homes in the absence of fighting over recent weeks. The remaining displaced populations continue to face significant hardship, however, struggling to meet basic needs such as food, accommodation and healthcare.