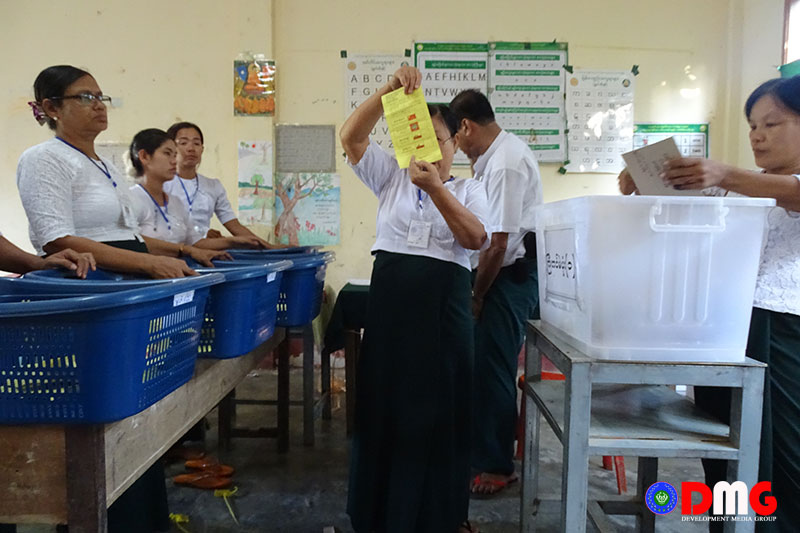 Editorial | DMG
As Myanmar's November 8 general election draws nearer, the official campaign period is in its second week. But political parties in Arakan State report struggling to conduct their campaigns amid ongoing conflict and the coronavirus pandemic, which is also expected to depress interest in the election and, ultimately, voter turnout.
Is it any wonder that interest may be low this year? Arakan State continues to report weekly civilian casualties from the conflict between the Tatmadaw and the Arakan Army (AA), which will unofficially enter its third year in December. In addition to civilian casualties, the number of people arrested by the Tatmadaw on suspicion of links to the Arakan Army and the tally of internally displaced people (IDPs) due to the hostilities in Arakan State have continued to rise.
A steadily deteriorating conflict environment has been made worse over the past month by an outbreak of COVID-19 in Arakan State, with the spike in new cases locking down the state. The government has issued stay-at-home orders in all 17 of Arakan State's townships in an effort to curb the spread of the virus, including the imposition of a nighttime curfew. The movement restrictions have made it difficult for many people to earn a living.
Amid conflict- and virus-induced hardship, it should come as no surprise that voters are more focused on just getting by, at the expense of expressed interest in the upcoming election. 
Efforts by political parties, their candidates and independent parliamentary hopefuls to excite voters about the election are hampered by the same stay-at-home orders affecting people's livelihoods. On top of that, seven townships in Arakan State and Chin State's Paletwa Township are without adequate internet access, hobbling online campaign outreach that would otherwise have taken on an outsize role in the election amid the coronavirus lockdown.
In contrast to the 2015 general election, fear is the predominant mood in Arakan State this year. Accompanying the ongoing Tatmadaw-AA conflict are threats to civilians ranging from rape and arson to extrajudicial killings and arbitrary detentions. As long as conflict persists, these risks will remain. 
Incumbent MPs running for re-election and their challengers must address these issues on the "campaign trail," such as it is, and pledge to express the voices of Arakan State's beleaguered people in the legislatures of Sittwe and Nay Pyi Taw.
The people of Arakan State may face continuing human rights violations and neglect if they fail to elect lawmakers who can effectively represent their constituencies. The government's throttling of the internet and access restrictions for independent media make elected MPs that much more important in bringing the voices of the people to the halls of power.
With the stakes so high — and despite the difficulties brought by the pandemic and war — it is vital to draw public attention to the election, because a more informed and engaged electorate is presumed to yield better electoral outcomes. 
A precursor to voter interest, however, is a sense of security; in terms of health, and as it relates to conflict in Arakan State. For this reason, we call upon all sides to the conflict in Arakan State to refrain from hostilities during the campaign period, and up through Election Day. 
Civilian authorities, meanwhile, must do everything they can to put in place public health safeguards while also facilitating alternatives to door-to-door and rally-based campaigning — such as by restoring full internet access to Arakan State and Paletwa Township. 
There are also tens of thousands more IDPs in Arakan State than there were in 2015, and enabling their access to the ballot must be a priority. 
It is up to Arakan State's warring armed groups, the government, the Union Election Commission (UEC), civil society organisations, political parties and the public to make this election work amid unprecedented adversity. To make that happen, as with many things in life, the ruling mantra for all stakeholders should be: "Safety first."