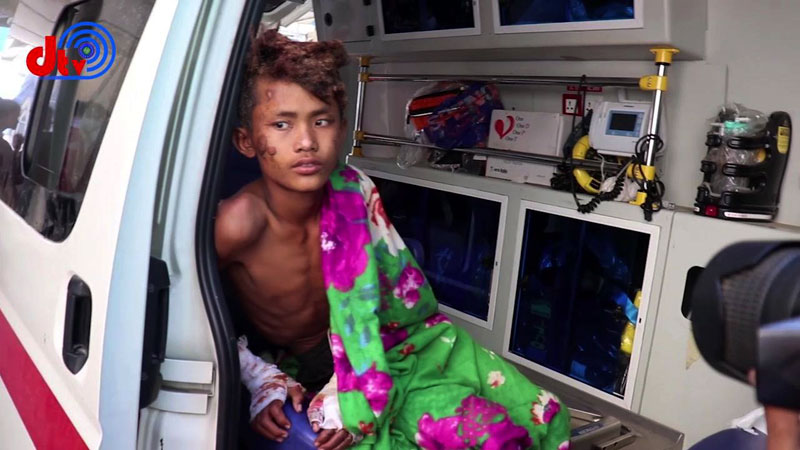 Editorial | DMG
The large number of children killed or injured by landmines and explosive remnants of war (ERW) in areas of armed conflict this year shows children in those places are in urgent need of protection. 
Child casualties from landmines and ERW in areas of armed conflict have been on the rise in Myanmar.  
In the nine-month period from January to September, 13 children were killed and 56 others were seriously injured in landmine blasts and ERW explosions across Myanmar, UNICEF said on November 23. Children accounted for 35% of total casualties and injuries, and the number was highest in Arakan State, with children accounting for 47%, according to UNICEF.  
Children in conflict zones are losing their rights to life, development, protection and to engage in society, as enshrined in the Child Rights Law.  
Children are suffering from emotional trauma due to the sounds, and sometimes direct impacts of, shelling and gunfire. Displaced by clashes, many suffer from malnourishment and do not have access to regular schooling. 
Worst of all are the risks they face of premature death or lost limbs due to landmines and ERW.
UNICEF has urged all groups engaged in armed conflict in Myanmar to stop using landmines and to clear the existing landmines/ERW to ensure the safety of children and maintain their right to protection.  
Myanmar ratified the UN Convention on the Rights of the Child in 1991. Like other signatory countries, it celebrates "World Children's Day" annually.  
Myanmar enacted legislation known simply as The Child Law in 1993, and adopted rules in 2001. In order to provide more comprehensive protection to children, Myanmar promulgated the Child Rights Law on July 23, 2019, repealing the 1993 Child Law in the process. 
But between January and June 2020, 43 children were killed and 103 maimed as a direct result of armed conflict in Myanmar. This was more than the total casualties of 2019 or 2018, said UNICEF.
Internally displaced people (IDPs) have expressed concern about returning to their homes due to the presence of landmines and ERW in and around their villages in Arakan State. 
"Kids are playful by nature. They don't know the dangers. Even the adults are not aware these things are made of explosives and bring them to their homes and there are instances of explosions at homes," the chairman of the Rakhine Ethnics Congress, U Shwe Baw Sein, told DMG last month. 
This is an unacceptable reality for far too many children in Arakan State and beyond. Hence, DMG would like to urge international organisations, government and civil society groups to work together to extensively conduct landmine risk education and demining activities as part of efforts to protect one of the country's most vulnerable and valuable demographics; its children.