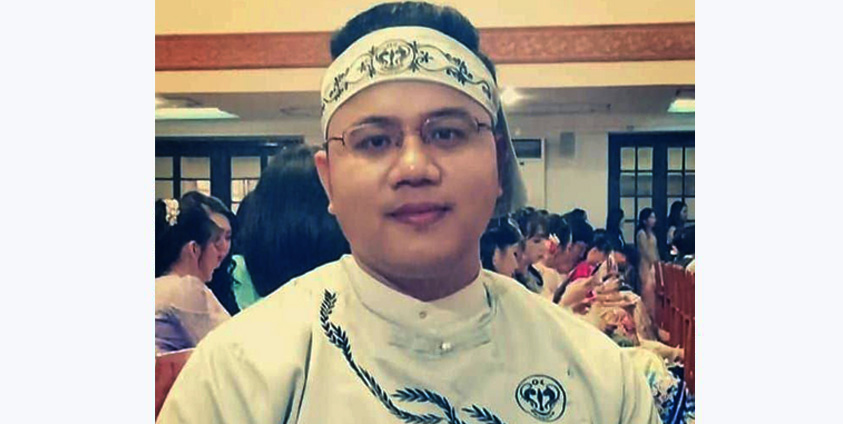 As the number of COVID-19 cases in Arakan State continues to rise, medical personnel from elsewhere in Myanmar have been called to Sittwe to assist in the effort to combat the recent outbreak of the deadly virus. 
On August 24, DMG reporter Khin Tharaphy Oo recently interviewed Dr. Aung Naing Lin, who travelled from Yangon to work temporarily at Sittwe General Hospital, about the health conditions of COVID-19 patients, infections among medical staff, and prevention and treatment measures.
Question: Could you tell me why you came to work at Sittwe General Hospital?
Answer: The number of COVID-19-infected patients is increasing day by day. And they are local transmissions. For those who have returned from other countries, it is easy: Just put them under quarantine and test for COVID-19. If someone tests positive, he or she is sent to hospital to provide treatment. 
But for local transmission, it is different. There is no trace of how infected people are existing among the public. Silent carriers are moving among the people, so the number of cases is increasing. In such a situation, I guess more medical staff will need to control the situation in Sittwe.
So, I have a desire to help the medical staff in Sittwe, who will be exhausted because of work overload. That's why I came to help here.
Q: What kinds of doctors have come here to help?
A: As far as I know, assistant specialist doctors have come here. There are three anesthesiologists, who are very important for a situation when a patient is having trouble breathing. They are for the ICU department. There is a doctor specialising in pathology to help with diagnosing. And about 10 assistant doctors [who are] general practitioners are also included. For administration and data-sharing, a deputy superintendent from the Nay Pyi Taw Health Department joined the team. Two nurses and a chief nurse also came to work here.
Q: How are the health conditions of the COVID-19 patients now?
A: There is no patient with trouble breathing so far. Some of them do not need to take medicine. They do not show any symptoms, even symptoms of catching cold. They do not have runny noses or coughing. So, we need to consider how we prevent rapid transmission among people and how we prepare to control the infection.
Most of them will recover without taking any treatment. However, the most important point is how do we control the spread of the pandemic in the community and in the hospital. We need to think about how to prevent the spread of COVID-19 from health staff to their family members. Considering how to control the spread of COVID-19 is the most essential at the moment.
Q: Having participated in COVID-19 treatment measures in Yangon, what do you think of the conditions in Sittwe?
A: The situation in Yangon previously and Sittwe at the moment is different. The majority of cases in Yangon are returnees from different countries such as India and the U.S. When they returned home, they were put under quarantine and tested for COVID-19. There is hardly any case of infection of COVID-19 from returnees in Yangon. For treatment, the facilities and staff in Yangon are far better than Sittwe.
Q: What are Sittwe's weaknesses in terms of providing treatment to a COVID-19 patient?
A: I was disappointed when I saw the situation of the hospital facilities. The building is not systematic in providing treatment to COVID-19 patients. I don't mean to insult my seniors at the hospital. The setting at the hospital does not meet the standard to prevent the pandemic.
You will also notice more medical staff from the hospital infected with the disease. I think they were infected not because of going around the town. I am sure they were infected with the disease because of the hospital setting, such as the place arranged for COVID-19 patients and the system to examine the patients. The situation of the setting here is really worrying for medical staff, including me, because the setting is not systematic.
Another problem is that the medical staff return home and visit markets and other places; they look like a distributor of COVID-19.
They do not have a chance to effectively prevent the spread of the pandemic because every situation at Sittwe is really different from the situation in Yangon. 
Q: What else would you like to say?
A: I have come here temporarily. What I saw here is disappointing. So, I'd like to suggest that top seniors of the department come and see the situation on the ground. I know they are working hard and I don't mean to insult them. I'd like to suggest that they should not focus on reporting increased numbers of COVID-19 patients but rather to think how to prevent infections.
I think an expert will come and instruct on how to prevent the disease and the setting should be at the hospital. I'd like to ask authorities, on behalf of people in Sittwe, to send experts here for three or four days to show the best ways to prevent infection of COVID-19 at hospitals because even I do not know the best way to prevent the disease and the best setting to prevent infection among medical staff. What I can do is to provide treatment to a patient.