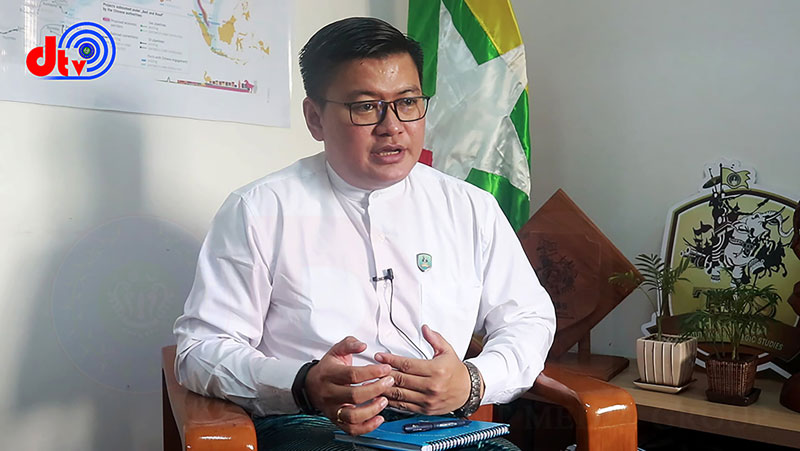 DMG
Dr. Naing Swe Oo, executive director at the Thayninga Institute for Strategic Studies, a think-tank formed by ex-military officers, says there is little chance of fresh clashes erupting between Myanmar's military and the Arakan Army (AA) in Arakan State, responding to local media reports about increased troop presence in the state. Dr. Naing Swe Oo recently discussed increased Tatmadaw troop deployments in Arakan State with DMG.
Question: Local media have reported increased military deployments in Arakan State. How large do you think the troop reinforcements might be?
Answer: In fact, I haven't heard about increased troop deployments there. If the military is actually increasing its presence there, there are reasons for it to do so. We can't just look at the internal factors, we also need to take external factors into consideration. The fighting with the AA has virtually ceased since November last year. There has barely been fighting in Arakan State. It is fair to say Arakan State is the most peaceful area for the time being in Myanmar. However, Arakan has issues that attract international attention; for example, the Bengali issue.
So I assume this can be the reason if the military has really increased its troop deployments in Arakan. Again, Myanmar's relationship with Bangladesh is not as good as it was before, and there have been political tensions. So, this can be a reason behind military deployments in Arakan. Yes, this must be the reason.
And the Myanmar Navy will be conducting exercises off the coast of Arakan State. Those four countries (U.S., Japan, Australia and India) are conducting joint naval exercises in the Bay of Bengal. Myanmar's military will be there to show its readiness. I don't think the troop deployments are intended to fight at the domestic front.
Q: The Three Brotherhood Alliance released a statement saying they would reconsider alliance plans to extend its unilateral ceasefire and warned the military that they would join hands with other ethnic armed organisations and pro-democracy forces to defend themselves from the regime if its violence and brutal crackdowns against peaceful protesters continued. So, can renewed clashes take place in Arakan?
A: The Tatmadaw [Myanmar's military] has declared a unilateral ceasefire for a long time. It has declared a unilateral ceasefire since the end of 2018. (Editor's Note: The Tatmadaw's ceasefire was notably conditional, as reported here and prior to that.)
For the time being, they have completely halted military operations in Arakan, I think. About the statement of the Three Brotherhood Alliance, the Tatmadaw and the State Administrative Council are trying to hold peace talks and there is also the NCA [Nationwide Ceasefire Agreement] path they can take. Despite their statement, it is unlikely that fresh clashes will take place in Arakan.
There are people who have joined the [armed group] at the border in the southeastern part of Myanmar. But there have been only a few people. Some were arrested on their way, and some have returned. It is unlikely that they would join the ethnic armed groups and fight back against the military.
Q: Local people are concerned about fresh clashes in Arakan State. How much worse could the Arakan crisis get if clashes break out again?
A: Local people have suffered from the negative consequences of the war over the past two years. In particular, many people were displaced. A lot needs to be done with resettlement of rural folks. So, it would be the best if clashes do not happen. There is a little chance for fresh fighting in Arakan. Casualties are inevitable in the fighting. The warring sides will suffer from casualties and people will also be injured. These are the inevitable consequences of war. And measures are underway to resettle internally displaced people and clear landmines in Arakan. So, there are good prospects for peace in Arakan.
Q: What else would you like to say?
A: Anyway, war is not good. It not only affects both sides, but also the people. My view is that only dialogue and peace talks can solve the problem. War is the last resort. Negotiation is best. A roadmap is in place in our country, and we also have the NCA. So, if the NCA path is taken, it will lead to peace one day, no matter which government is in power.