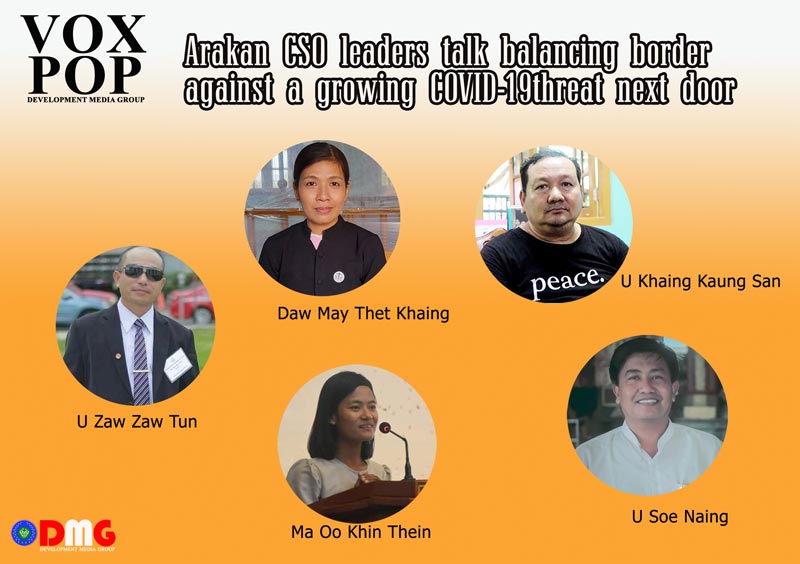 DMG
4 May 2021 
With COVID-19 infection rates and related fatalities on the rise in neighbouring India and Bangladesh, DMG interviewed Sittwe-based civil society organisations to discuss what can be done to mitigate the risk of the coronavirus case rise spilling across the border into Arakan State. The discussion comes against the backdrop of recently rebooted border trade in the region, which had been suspended for more than 10 months due to the pandemic.  
U Zaw Zaw Tun || Secretary || Rakhine Ethnics Congress 
There was the experience of COVID-19 infections under the previous government. If there is an infection, the process [of containment] is complicated and the expenditure is so high. The situation will be worse if there is an infection amid this political instability. So, according to our opinion, the border trade should be suspended. And immigration at border gates should be stringent. 
In some parts of Myanmar, there are reports of COVID-19 positive cases. So, there should be travel restrictions and quarantine centres for travellers from the affected areas. During the COVID-19 first wave, we did not notice the entry of COVID-19-infected people from Bangladesh though there were restrictions on travellers. So, we have two options: They are suspending border trade, and immigration [controls] that are strict, with travel restrictions. 
Daw May Thet Khaing || Higher Grade Pleader || Thazin Legal Institute 
We have learnt lessons previously about COVID-19 infection. So, it'd be better if the government could prevent widespread infection. People also need to follow regulations to prevent COVID-19 infection. People should wear masks and gloves in crowded areas, especially those who visit courts, where people from different places meet. It is better if people get vaccinated against COVID-19. I think the government should plan a compulsory vaccine injection. Additionally, there should be strict regulations for immigration and travel so that Myanmar will not face a third wave of COVID-19. 
U Khaing Kaung San || Director || Wan Lark Foundation 
India and other countries are facing a third wave of COVID-19. However, there was no serious worry for people in Arakan State and other areas in Myanmar during the first and second waves of COVID-19. And the people are not worried about a COVID-19 third wave. If people follow the instructions of the Ministry of Health, there will be no negative impact on border trade in Arakan State due to COVID-19.  
The government needs to provide public awareness of what people should and should not do to prevent COVID-19 infection. Public awareness should be provided by posting signboards, and then people need to follow them. People are important to preventing COVID-19 infections. If you do not follow regulations to prevent COVID-19 infection, your family and those closest in your life will suffer first. So, each individual needs to follow the regulations. 
Daw Oo Khin Thein || Member || Rakhine Youth New Generation Network 
The government has gotten much experience during the first and second waves of COVID-19. But we saw the government always has weaknesses. It needs to be strict at border crossings. And it needs to keep people with suspected COVID-19 separated. Previously, if someone tested COVID-19-positive, people in close contact with that case couldn't be traced. Also, there were different problems at the government's quarantine centres. There was no drinking water for the people. The toilets were not clean. So, the government needs to better prepare for it.  
And, I think, most people have also gained experience. So, an individual should stay at home if it is not necessary to go outside, and should follow regulations to prevent COVID-19 infection. Previously, some families tried to hide COVID-19-positive cases. It is not a shameful situation if someone tests positive for COVID-19. They need to receive medical treatment. Some people did not reveal the places they had travelled if they tested positive of COVID-19. They should not do that. 
U Soe Naing || Resident of Sittwe                               
It is especially necessary to be strict when it comes to border trading. When the border trade cannot be suspended — in consideration for those who depend on it — there should be checking and testing at the border gates. At the moment, there is no report of COVID-19 infection. So, the government needs to prepare for prevention and people need to follow regulations to prevent COVID-19. It's necessary to keep careful watch for illegal immigration because COVID-19 might spread from a person who enters Myanmar through a border gate.