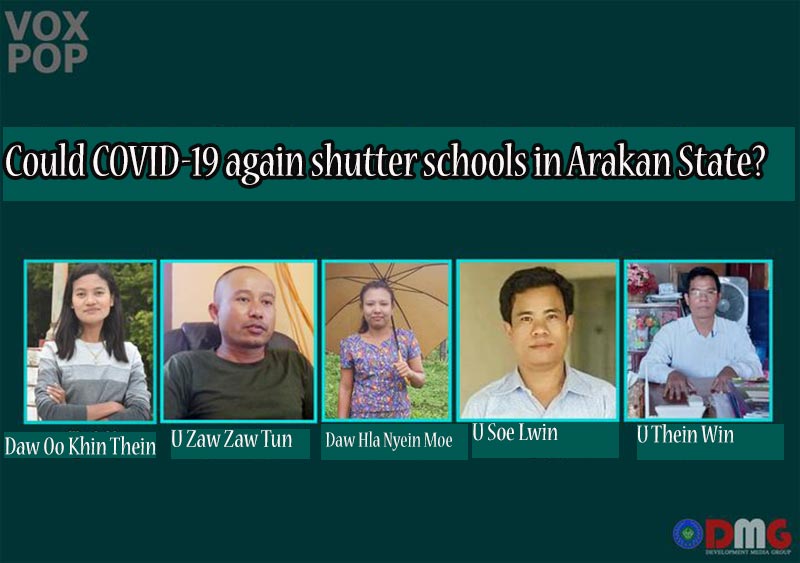 DMG
14 June 2021, Sittwe 
Basic education schools in Paletwa Township, Chin State, have been temporarily closed since June 9 after a cluster of COVID-19 infections were reported there in recent days.  
Multiple returnees and illegal entrants from Bangladesh, meanwhile, have also tested positive for coronavirus over the past month in Arakan State, where there are local concerns about the potential for a more widespread outbreak. Against this backdrop, DMG asked educators, parents and members of civil society groups about the possibility of schools in Arakan State closing as their counterparts in neighbouring Chin State have done. 
U Saw Lwin || Headmaster || Zwe Thit Private School, Kyauktaw 
Due to its proximity to Paletwa town in Chin State, the virus can spread to Kyauktaw if the virus cannot be controlled in Paletwa. If the virus spreads to Kyauktaw, schools will be closed. There are seven reported cases of the virus on the Myanmar side of the border with India. As far as we know, the stay-at-home order has been put in place in Paletwa town. Due to the strict regulations, if the virus can be controlled, it will not spread to Arakan State and schools will be able to stay open. If the virus in Paletwa is not controlled, I think schools in Arakan State will have to close. 
U Thein Win || Freelance Teacher 
I think the situation in Arakan State is not the same as the case of coronavirus in Chin State's Paletwa. Viruses have spread in Chin State due to the lack of systematic control of border crossings between India and Bangladesh. In Arakan State, people traveling to Bangladesh are not allowed to enter Sittwe Township and are kept at Mingan Jetty to be tested for the virus. After the testing, only infected patients are taken to Sittwe General Hospital for medical treatment. We don't see much concern as the returnees from Bangladesh are quarantined in this area and have no contact with the people here. 
The virus was detected in people returning from Bangladesh on trading boats in Sittwe. Trading boats are docked at Mingan Jetty. I don't see the virus spreading because the returnees are quarantined at Mingan Jetty. We don't need to worry too much if the government deals effectively with the virus. 
Daw Hla Nyein Moe || Parent of Student in Kyauktaw 
Although Kyauktaw and Paletwa are located in Arakan and Chin states [respectively], we have a lot of concerns about the spread of the virus because of their proximity. We are worried that schools will close again if the COVID-19 virus is detected in Kyauktaw due to a virus outbreak in Paletwa. Also, as a student's parent, I am worried that my children will not be able to go to school. We don't want schools to close. I think if the schools close, the future of our children in Arakan State will be even more delayed.  
Because Arakan State was a war zone, we would be in a lot of trouble if schools were closed due to the virus and armed conflict. Therefore, we will do our best to take care of our children at home to prevent them from contracting the virus. I want other parents to take care of their children as much as they can. I think it is better for parents and teachers to take care of their children's education and health. 
U Zaw Zaw Tun || Secretary || Rakhine Ethnics Congress (REC) 
Schools will not be closed in Arakan State for the time being because the coronavirus infections are under control. We are in a position to keep the returnees from Bangladesh [isolated pending the results of testing]. As a result, there is no virus infection in Arakan State. For one thing, if the returnees from Bangladesh can no longer be controlled, there could be a virus outbreak in Arakan State. 
Daw Oo Khin Thein || Member || Arakan Youth New Generation 
Personally, I think schools may be closed. But at the moment, we do not expect schools to close as quickly as in Paletwa. Because on the one hand, schools are being opened and people are going to school in Arakan State. The military council, on the other hand, is paying close attention to Arakan State as a compromise. 
School opening or closure is not the only issue. The current political situation is not stable. With the exception of Arakan State, students are not attending schools in other regions. Will the total number of students [attending school] in Myanmar be 50 percent? The military council has to consider such situations as well. There may be some things that the military council can do, but I think it is possible that schools will be closed in this situation.