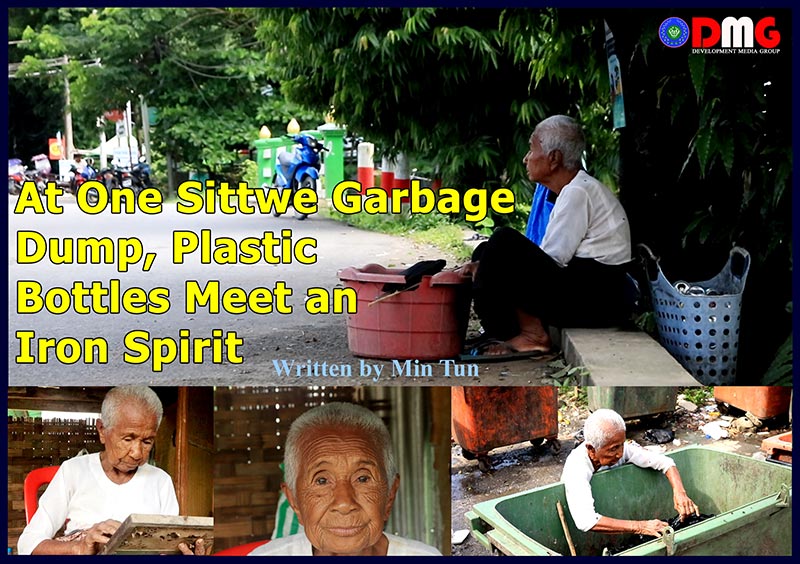 By Min Tun
Eighty-four-year-old Daw Khaing San Phyu is seen every day near the garbage dump at the eastern entrance of Lawka Nandar Pagoda in the Arakan State capital Sittwe.
She sits near the dump site until evening; even in the rain, when she brings out an umbrella. She returns home when the number of people discarding their rubbish dwindles as night falls.
Daw Khaing San Phyu collects empty plastic bottles, and other soft drink and beverage containers, from the foul-smelling garbage dump. Her intention in collecting these discarded receptacles is to donate to those in need, she says, a generosity of spirit that is particularly noble given her own modest station in life.
"I don't know when I will die. So, I do not complain about my poverty. I believe that I must donate as much as I can while I am healthy," she says.
Her other purpose in collecting discarded bottles and cans is to earn some money for her family, she added.
She has been living with her daughter-in-law in Sittwe since her husband and children died when she was in her 50s.
Previously, her daughter-in-law was a daily wage worker, and Daw Khaing San Phyu sold fish at the market. But when she grew tired of the fishmonger's life, she began collecting discarded bottles and cans.
Daw Mi Mi Kyaw, the daughter-in-law in question, said she and her children have told Daw Khaing San Phyu to stop scavenging for bottles and cans, given her advanced age, but the octogenarian is unstoppable.
"When I told her not to collect empty bottles at the garbage dump, she responded to me that I alone should not try to get income for the family. She is also worried that she cannot donate rice at the monastery," said Daw Mi Mi Kyaw, who earns money selling fried snacks.
Daw Khaing San Phyu has been generating income by collecting empty bottles and cans for more than two years.
She leaves home every day at 2 p.m. to collect empty bottles at the garbage dump, which is a three-minute drive by rickshaw. But she always goes there on foot.
When she arrives, she is rarely alone: There are many people who collect discarded bottles at garbage dump sites in Sittwe, some moving from one location to the next. Her fellow trash pickers are from both Sittwe and surrounding villages, with the growing ranks from outside the city indicative of the grinding poverty affecting people across Arakan State.
Daw Khaing San Phyu returns home at about 5 p.m., as the approach of dusk means fewer and fewer people come to discard their rubbish for the day. If she has collected many plastic bottles and her bag is heavy, she returns home by trishaw. Mostly, she returns home on foot.
Sometimes, her advanced age and status as a "regular" at the dump site work to her advantage.
"People who come and discard their rubbish recognise me and they give their empty bottles and cans to me," Daw Khaing San Phyu said.
Her income is irregular, but she says she can earn about K1,500 a day. Some people give her K500 or K1,000 out of pocket when they see her at the garbage dump, she said.
"If there are no other waste pickers at the garbage dump, I can sell bottles for about K1,500 a day. Sometimes, people donate cash to me. My income is about K3,000 on such days," she said.
She saves her money to donate food or rice at monasteries once a month.
"I save K200 if I earn K1,000. I am happy when I can make a donation," she said.
Some elderly people ask for help or donations, or beg on roadsides when their family's income is not good. But Daw Khaing San Phyu made up her mind to earn her own income by working as much as she can.
Many of those who see Daw Khaing San Phyu labouring at the garbage dump, whether under the blazing tropical sun or in monsoon rains, feel pity for her. But she says she has accepted her situation, and tries to take comfort in Buddhist teachings.
The work of a waste picker may not be suitable for a person of Daw Khaing San Phyu's age, but she has resolved to continue scavenging among the trash piles — until her aging body says otherwise.