A Single Mother Out to Prove Her Critics Wrong
"Single mothers should be able to stand up in life with full courage, without having to be weak at all. Single mothers have nothing to fear."
By Admin 18 Aug 2023
Written By May Gyi Shin
Ma Htay Htay, 26, hits the gym every day, rain or shine. For most people, the gym is about building a strong physique and boosting fitness. But it has a deeper meaning for Ma Htay Htay.
Ma Htay Htay says she goes to the gym to make and keep herself attractive so as to silence those who criticise her for how she looks.
"There has been a lot of body shaming on me since I was young. … After I married, people mocked my husband for marrying a woman like me. Though I have never spoken out about it, I was quite irritated. Scathingly criticising someone can leave emotional scars," she said.
Every day at six o'clock in the morning, Ma Htay Htay hits the gym, which is close to her house in the Arakan State capital Sittwe. She goes to work after her daily, one-hour workout.
The single mother runs a dried fish wholesale shop in Sittwe's central market. She lived a hard life before becoming a small-business owner.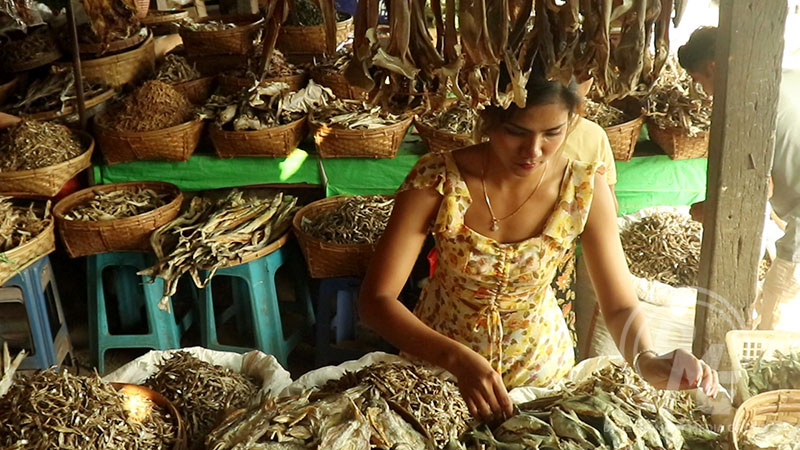 Born in Rathedaung Township's Yee Nan Set Village, Ma Htay Htay is the third daughter of four siblings. Her widowed mother was a manual labourer, and Ma Htay Htay had to drop out of school at age 10 to help support her family.
"My mother has been a widow since I was old enough to remember. I had to work together with my mother. But my mother often got sick, and I alone had to work for the entire family. My sisters are rather naive. So, the heavy burden fell on my shoulders," she said.
Ma Htay Htay married at 18, and gave birth to a daughter. She later had a row with her husband, and the two divorced when her daughter turned 3.
As a single mother, she says she has experienced criticism and body shaming.
"At the market, they [fellow shopkeepers] criticise me for my appearance, and call me a yokel, a thief and a call girl who came from the countryside, though I don't hold any old grudge with them," she said.
At one point, she was so depressed that she even attempted suicide by consuming pesticide. Later, she turned her sorrow into strength, and decided to live her best life, ignoring the criticisms of others.
"It is me and myself that matters most. If you stop fighting, you will lose. But if you keep doing your business, you will reach your goal. Then people will stop criticising. I have a clear conscience, so I keep doing my job despite their criticism," she said.
Ma Htay Htay revealed that sometimes when she was ridiculed by people around her, she wanted to cry and confide in her mother, who had long ago passed away.
"If only my mother was still here, she would encourage me," Ma Htay Htay said. "My mother would decide what I am doing right or wrong. If I still had my mother, no matter who attacks me, right or wrong, my mother would stand by my side. Now that my mother is gone, others want to suppress me even more. But I haven't done what others say, so my mother can be proud of me in the afterlife."
Ma Htay Htay grew up in a grassroots family, but at the age of 26, she is now able to stand on her own as a small business owner in Sittwe, all thanks to her hard work.
Ma Htay Htay was able to run a dried fish sales centre at Sittwe's main market within three years of selling dried fish at the smaller bazaars in Sittwe.
"When it comes to my business, I have no one to consult and no one to support. I decide every work matter by myself. I think about it myself and order the commodities. I have had no one to teach me in my life," she added.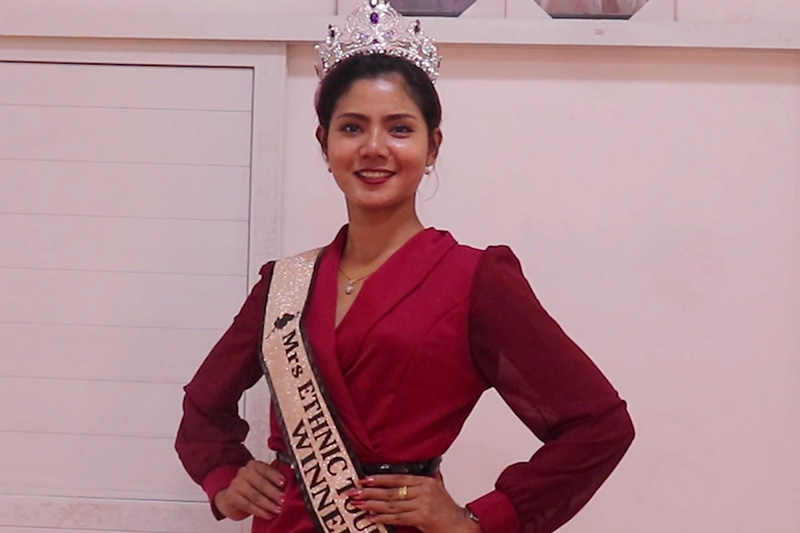 Ma Htay Htay also won a hotly contested beauty pageant held in Sittwe earlier this year. She revealed that she did not hear any encouragement and only heard criticisms that her physical appearance was not good enough to compete in the competition.
"People around me criticised me. As people around me criticised me, I tried even harder and succeeded. Even those who criticise me, I still appreciate it. As people around me criticise me, it gives me even more strength," she explained.
Thanks to Ma Htay Htay's hard work, her now 5-year-old daughter is provided with everything she needs. Currently, Ma Htay Htay says that she is working and living with the belief that the world is in her favour regardless of the criticisms around her.
Ma Htay Htay urges women like her who are struggling as single mothers not to give up on life, and rather to turn negative energy into a positive, motivating force.
"Only when women have pride and courage in their journey through life will men not dare to insult them," she said. "Single mothers should be able to stand up in life with full courage, without having to be weak at all. Single mothers have nothing to fear."