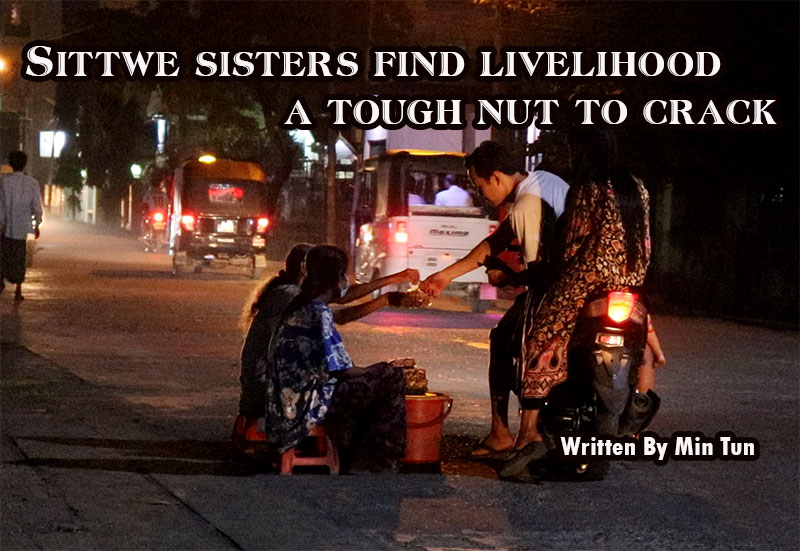 Written By Min Tun

The evening is chilly as it is the beginning of winter in Arakan State, and streets in the state capital Sittwe bustle with people travelling to and fro.

Two women operating a roadside shop depend on the light from a utility pole near a post-primary school in Sittwe's Kyaung Tet Lan ward. Daw Oo Thein Khin, 57, and Daw Yi Yi Win, 43, are residents of Done Taik Kwin ward in Sittwe. The two sisters sit on plastic stools next to a small wooden table on which packets of roasted peanuts are displayed, waiting patiently for customers.

They are here most every evening from around 5 p.m. to 9 p.m. It has been about 17 years that they have been selling roasted peanuts at the roadside.

Their mother, Daw Aye Khaing, died when Daw Oo Thein Khin was 33, and their family of four became three. The sisters now care for their 78-year-old father, U Maung San Kyaw, who is not in good health these days.

"I have to take charge of the family responsibilities because our father is old now," Daw Oo Thein Khin said.

The sisters' days were once relatively carefree, but with their father ailing, they have been struggling for their livelihoods. Both remain single and that's the way they expect it to stay.

"We must say, we do not have a desire to become married people. So, both of us are earning our livelihoods by selling roasted peanuts at the roadside shop," Daw Oo Thein Khin said with a smile while looking at her younger sister.

Daw Oo Thein Khin and the rest of the family are not Sittwe natives. They are originally from Nat Chaung village in Mrauk-U Township, and relocated to the Arakan State capital 38 years ago.

As their family has depended on daily wages since they moved to Sittwe, the sisters studied only until Grade 4. Then, they dropped out of school to help the family. Daw Oo Thein Khin worked as a sales assistant at different shops in Sittwe. When she was 30, she bought vegetables and resold them at Ywar Gyi Myauk ward in Sittwe.

Her income as a vegetable retailer was initially adequate to meet the family's needs, with enough even that they could afford repairs on their old house. But buyers were not always plentiful, and her product was decidedly perishable.

"When sales were lower, I had to sell some vegetables at a lower price than I paid for them. Sometimes, I had to discard them as they were rotten. So, I did not earn my money back and had to put in new capital. Then, I faced loss," she said.

The family had to skip meals to make up for the shortfall in revenue, and eventually Daw Oo Thein Khin gave up on what had become a loss-making endeavour.

There are many vendors selling different snacks near Pyae Lone Chan Thar Pagoda in Sittwe's Kyaung Tet Lan ward in the evenings, when the road is crowded with visitors to the pagoda. After Daw Oo Thein Khin stopped selling vegetables, the sisters determined that they would try their luck at peanuts instead, setting up shop near the school or at other locations around the pagoda where they could find light after sunset.

"It is not suitable to open a shop in the dark," Daw Oo Thein Khin said.

She buys three visses of peanuts for K2,100 from Sittwe's Myoma Market, and roasts them at home. Three visses amounts to about 60 tins of peanuts, and she sells a tin of roasted peanuts for K500. She can sell about 20 tins of peanuts a day on average, but "there are days when I can sell only one tin of peanuts," Daw Oo Thein Khin said.

"If my profit is K5,000, I save K2,000," she said.

The biggest challenge for her is the rainy season, when sales drop and she is forced to dip into her savings.

"In summer, I can earn money regularly. In the rainy season, I have to spend my savings because I cannot open the shop on rainy days," she said.

The third wave of Covid-19 has been as hard a period in their lives as any that the sisters can remember, as it has been for many people in Arakan State and beyond. Rising commodity prices, less disposable income among consumers, and smaller crowds on the streets of Kyaung Tet Lan ward have made the past few months a struggle, but the sisters are unbowed.

"I will continue selling roasted peanuts as long as I am healthy," Daw Oo Thein Khin said.