Where Are Arakanese Students Heading in Military-Ruled Myanmar?
By Min Tun 12 Sep 2022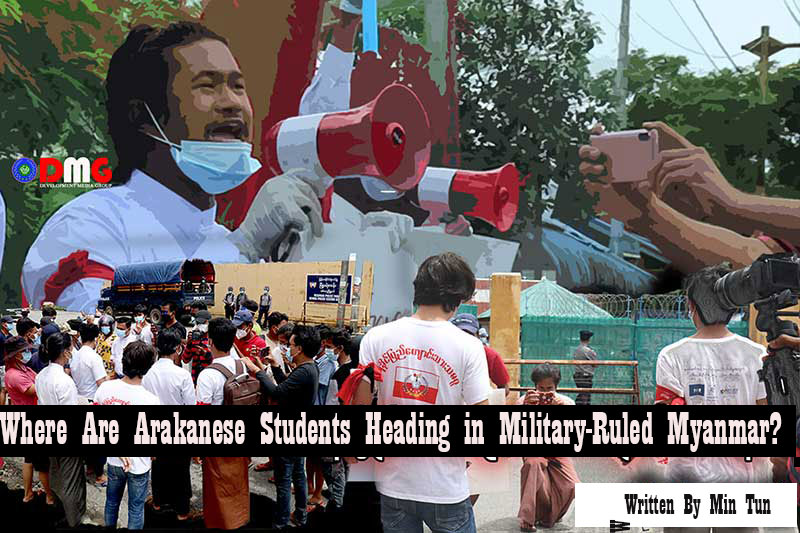 Written By Min Tun 
From 2019 to 2020, more than 600,000 people in Arakan State were deprived of internet access for more than a year, which was known at the time as the world's longest internet shutdown. Others framed it as a record-breaking human rights violation. 
Fifty-two individuals were charged and jailed for their protests against the internet shutdown, according to a report released on October 1, 2020, by Athan, an advocacy group promoting freedom of expression in Myanmar. Among those who spoke out were students from Arakan State. 
The government cut off internet access in eight Arakan State townships and Chin State's Paletwa Township on June 21, 2019. Internet restrictions were only fully lifted on August 2, 2020. 
Fierce fighting broke out between the Myanmar military and the Arakan Army (AA) in late 2018 under the semi-civilian National League for Democracy (NLD) government. The internet blackout was imposed in the affected Arakan State townships and more than 200 people were detained by the Myanmar military on suspicion of having ties to the AA as the fighting escalated over the next two years. 
A group of students organised a protest on October 19, 2020, outside Atula Marazein Pagoda in the Arakan State capital Sittwe, at which protesters shouted slogans imploring the "Fascist Army" and "Burmese Government" to "Get Out" of Arakan State.  
The fighting came to an end in November 2020, thanks to an informal ceasefire between the two sides to make way for Myanmar's general election. But during the two preceding years of fighting in Arakan, students spoke up for the needs of civilians in Arakan State, and also spoke out against human rights violations in Arakan State. Many were consequently rounded up and jailed. Among them were students from not only Arakan State but also from other parts of the country. 
Democracy Extinguished  
The Myanmar military seized power from the democratically elected government in a coup on February 1, 2021, citing alleged electoral fraud in the 2020 election. 
Five days after the coup, the Arakan Students' Union issued a statement slamming the regime and publicly stating its position: that it supported the civil disobedience movement (CDM) and civil servants opposing the military takeover. 
"Frankly speaking, we don't like the military coup. International examples show that coups only take countries backward," said an information officer for the Arakan Students' Union, Ko Oo Than Naing. 
Following the coup, a coalition of Arakanese students from 11 universities issued a joint statement on March 21, 2021, stating that they stood by and supported the students and people engaged in Myanmar's so-called Spring Revolution. 
Mass anti-regime protests rocked much of the country in the aftermath of the coup, but a lack of popular protests against the regime in Arakan State drew criticisms. 
"People in the mainland work for the restoration of democracy and ending military dictatorship. In Arakan State, our Arakanese people have our own political path for national interests. We have to go together with the people on that path," said Arakan Students' Union information officer Ko Kyaw Naing Htay. 
According to data released by the Assistance Association for Political Prisoners, 2,272 people had died at the hands of the regime since last year's coup, as of September 9, 2022. A total of 12,340 people were detained, and 1,448 are serving prison sentences. 
Students from Arakan State say they are focusing more on strengthening themselves instead of pressing their demands through protests, which are liable to land them in jail. 
"The current government is a regime that has seized power in a coup, so we consider popular protests to be ineffective," said Ko Kyaw Naing Htay. "Therefore, we have changed the way we operate. We are exploring the ways that enable us to take more effective measures on the ground. We are putting greater effort into it." 
Arakanese students are instead directing their efforts into establishing and expanding student unions in every township in Arakan State, as well as consolidating the unions to promote the national interests of Arakanese people. 
Oppression on Campus 
Officials at Sittwe University in Arakan State instructed students to remove the students' union office and teachers' union office by February 28 of this year. Student representatives were told that they would be punished if their office space was not vacated by the deadline. 
Sittwe University officials said they would handle it up to the rank of commander if the affected parties rejected the removal of the students' and teachers' union offices, the university students' union said in a statement on February 26. 
The Sittwe University rector and other university officials told the two unions to vacate the building where their offices were located by the end of February, citing plans to reopen a campus "rest centre" in their place, the university students' union said. "Since we are not in a favourable situation, we are going to move the office to avoid the actions of the dictators' lackeys," the university students' union added. 
Forcing the students to remove their office was a threat to all students' unions in Arakan State, said Ko Oo Than Naing, an information officer for the Arakan Students' Union and University of Computer Studies (Sittwe) student. 
"It is a form of threat: that if the Sittwe University Students' Union office can be removed, other students' union offices in Arakan State, including a similar one at the University of Computer Studies, can be removed at any time," he explained. 
Ko Kyaw Naing Htay, the top leader of the Sittwe University Students' Union, said that despite such pressures, the students' union will continue to strive for Arakan's national interests. 
"The military junta deliberately blocked the students' unions' right to act. However, the Sittwe University Students' Union will not disappear and we will continue to do what we have to do," he added. 
Ko Kyaw Naing Htay said that since there is no office space for the students' union, there are difficulties in organising the students, and it is not as effective as before in addressing the needs of the university campus. 
Ko Kyaw Naing Htay, who was previously sentenced to prison for protesting against the government and the military, was also pressured by school officials to stop his engagement in politics on March 15, 2022. 
Sittwe University authorities admonished Ko Kyaw Naing Htay for speaking out against human rights violations in 2020, which landed him in prison for more than a year. 
The notice, signed by Rector Dr. Khin Maung Zaw following a meeting of university authorities on March 22, threatened Ko Kyaw Naing Htay with expulsion if he violated university rules and regulations again. 
Four students including Ko Kyaw Naing Htay were detained on October 19, 2020, after they joined other student union members and non-student demonstrators in Sittwe for an anti-war protest against the then NLD government and Myanmar's military. He was sentenced to two years in prison but was released on March 11 of this year. 
Ko Oo Than Naing, the information officer of the Arakan Students' Union, said Arakanese students are determined to walk the path of Rakhita. 
"We rely on the Rakhita path to create our own future," he said.