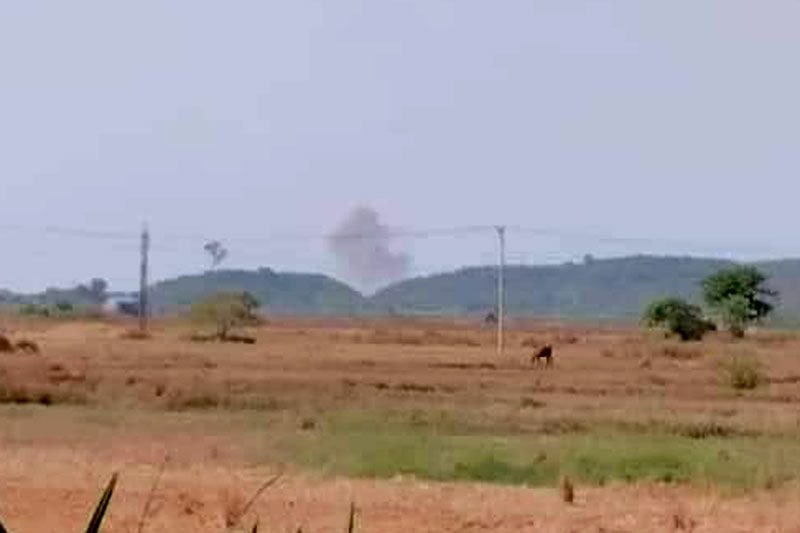 Khaing Min (Kyaukphyu) | DMG
27 December, Kyaukphyu

The Tatmadaw disposed of expired ammunition at a location west of Light Infantry Battalion No. 543's headquarters in Kyaukphyu Township, Arakan State, on December 26, according to a source from the township General Administration Department.

Though steps were taken to warn local residents of the cacophonous exercise in advance, many were still reportedly caught unawares at a time of heightened tension in the region as conflict persists between government troops and the Arakan Army ethnic armed group.

Official information about the impending disposal of expired ammunition was communicated to the office of the township General Administration Department and respective village administrators through the township administrator's office, in order not to induce fear and anxiety among locals, said an official from the township administrator's office.

"The Tatmadaw destroyed expired ammunition. They [the Tatmadaw] have notified our office of the disposal of ammunition. We also issued official letters and sent notifications to respective village administrators," the local official said.

Despite those efforts, the Tatmadaw's liquidation of its outdated ammunition stockpile caused a scare among some local residents who mistook the explosions for artillery fire, not having received advanced word of the planned disposal.

"We heard very loud explosions and saw smoke billowing from a location west of Kyauktalone Pagoda. Some people close to the area where unusable ammunition was destroyed said their houses were shaken by explosions. Many residents speculated about the destruction of the ammunition; that it was artillery fire," said a resident of Taungyin village in Kyaukphyu Township who declined to be named.

The blasts reportedly erupted from a site where old and otherwise unsafe ammunition from Light Infantry Battalion Nos. 542 and No. 543, the No. 32 police security branch, and the No. 34 Tatmadaw battalion in Kyaukphyu Township was destroyed from 8 a.m. to noon on December 26.