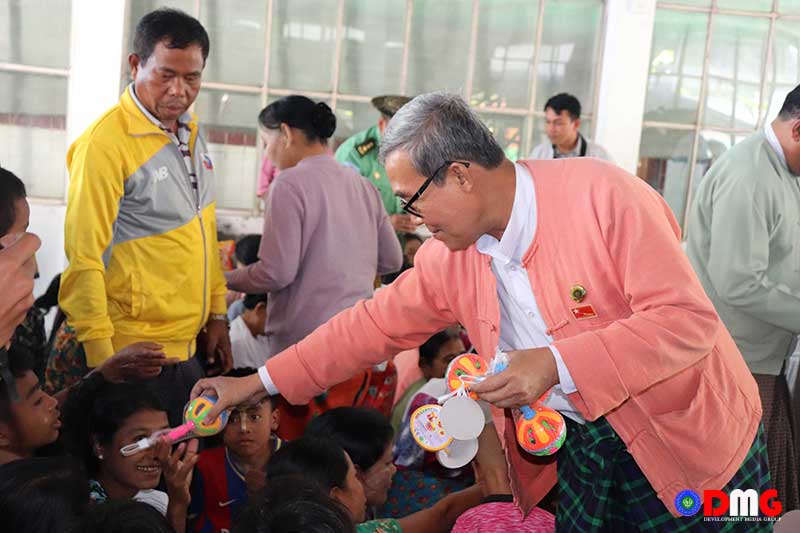 Khaing Roe La | DMG
January 7, Sittwe
 
Arakan State Chief Minister U Nyi Pu met internally displaced persons (IDPs) in Sittwe on January 6 and encouraged them to speak up about their needs, promising that he would see to it that the necessary assistance is provided.
 
The Chief Minister said that both the union and state governments have been providing food, shelter and education to IDPs who fled their homes due to armed conflict between the Tatmadaw and the Arakan Army (AA).
 
"If you need something, tell us openly," he said. "We will assist in providing shelter, food, healthcare, necessary basic items. We aren't just doing this now; we have been doing this for nearly one year."
 
State government officials, led by the chief minister, met IDPs staying at the Dhama Yarma, Buddha Maw and Wibazawar monasteries in Sittwe, and provided 152 sacks of rice to 452 people.
 
Lawmakers and civil society organizations have criticized the state government for not meeting with IDPs regularly, but the state government has responded that its representatives often cannot go to the camps and provide assistance due to security concerns.
 
In Arakan State, clashes since December 2018 between the Tatmadaw and the AA have forced more than 100,000 people to flee their homes, with the displaced populations struggling to meet their food, health and education needs.