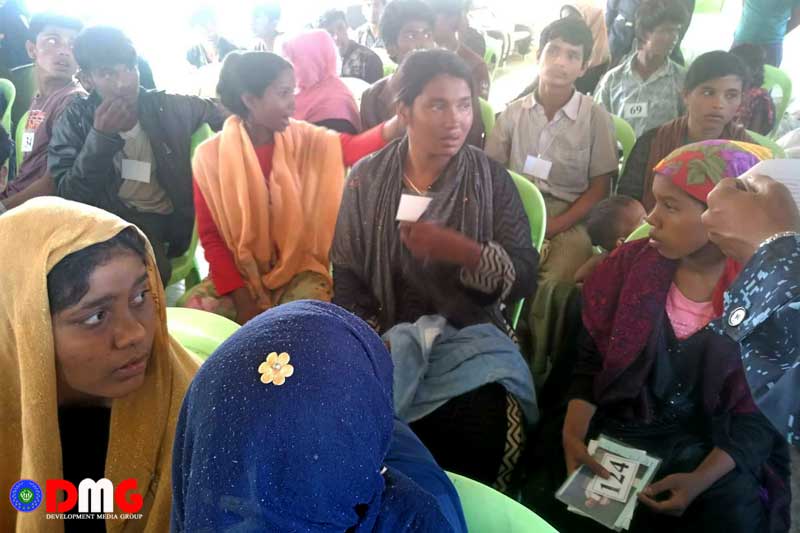 Cha Lu Aung | DMG
January 16, Maungdaw
 
Maungdaw District administrator U Soe Aung says authorities have accepted 29 out of 155 Muslims at the Hla Poe Kaung repatriation camp under the Union Enterprise for Humanitarian Assistance, Resettlement and Development (UEHRD) program after they were detained in waters off southeastern Myanmar last month and brought to northern Arakan State.
 
Among the 29 people confirmed to have previously lived in Arakan State, 11 are from Maungdaw Township and nine are from Buthidaung Township.
 
"We have accepted 29 people today under the UEHRD program and transferred them to the village administrators from where they had previously lived," U Soe Aung said on January 16.
 
He added that the remaining Muslims were being questioned at the Ngar Khuya repatriation camp to determine whether they used to live in the Maungdaw region. If they can prove claims to origins in northern Arakan State, local authorities will also receive them under the UEHRD program.
 
"The rest of the people also said that they had lived in Maungdaw District. But we are checking to make sure whether they really used to use live here," U Soe Aung said.
 
A total of 172 Muslims were detained off the coast of Kawthaung town in Tanintharyi Region and were transported to Arakan State by navy vessel on January 13. Seventeen members of the group were sent to Thae Chaung village in Sittwe Township and were issued temporary National Verification Cards. The remaining people were brought to Maungdaw.
 
"We are afraid of coming to Myanmar. It is not OK to live in Bangladesh either. That's why we were going to Malaysia to work. But we were detained and sent back to Maungdaw. We have no luck," one Muslim who has been accepted back to Maungdaw told DMG.
 
Attacks on security posts by the Arakan Rohingya Salvation Army (ARSA) in 2016 and 2017 in northern Arakan State prompted fierce counter-insurgency "clearance operations" by security forces that led more than 700,000 Muslims in the region to flee to Bangladesh. Although Myanmar has had a joint agreement with Bangladesh to repatriate the refugees, none of the displaced has yet returned to Myanmar under the program.
 
The Muslims in question were detained last month by the Myanmar navy while reportedly attempting to travel to Malaysia from St. Martin's Island a.k.a. Ohn Kyun Nayarpara refugee camp. State-run media published a notice on December 17 stating that the group included 82 men, 68 women, 13 boys and nine girls.
 
On November 30, 2019, more than 90 Muslims detained in Dawei District were brought back to Sittwe town.
 
As Muslims in Arakan State have struggle to access basic necessities such as food, clothing and healthcare, they have for years set out on perilous journeys by boat, attempting to reach other countries or more hospitable destinations within Myanmar. The boats are sometimes intercepted by Myanmar navy patrols, with passengers typically sent back to locations where they are thought to have originated.
Related Post : Muslims detained by navy brought back to Arakan State