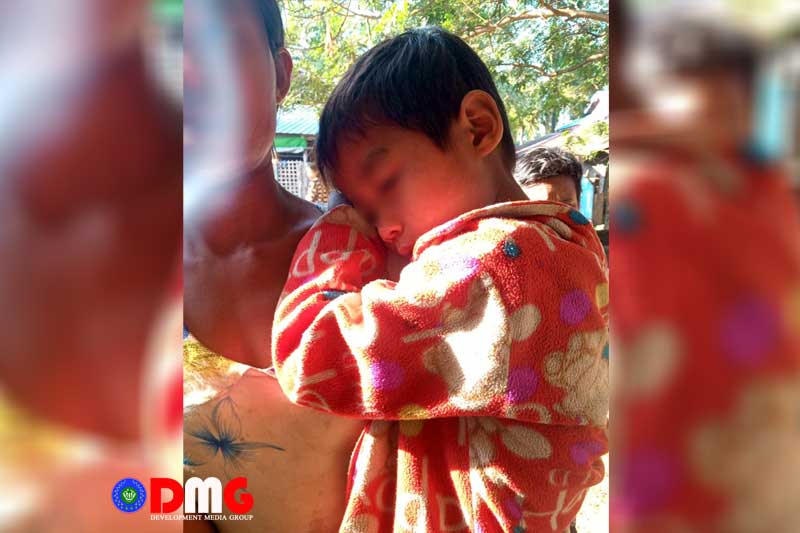 Khaing Min | DMG
January 27, Kyaukphyu
 
About 50 children have fallen ill in Arakan State's Ann Township, and four children sent to the Kyaukphyu District hospital to receive treatment are suspected of having measles.
 
The four patients whose conditions were considered serious, from Thalu Maw village in Ann Township, were admitted with urgency to the Kyaukphyu hospital, where one of them died. The other three are currently undergoing medical treatment.
 
Dr. Nay Linn of the Kyaukphyu District hospital told DMG that blood samples from the children were sent to the National Health Laboratory in Yangon.
 
U Khin Maung Win, a local leader in Thalu Maw village, said that around 50 children in the village had been feeling sick since January 20, exhibiting symptoms including a red rash on their faces and coughing.
 
"The red rash started on the face then spread to the whole body. They cough and have difficulty breathing. Some kids even have nosebleeds," he said.
 
Currently, the four children who were sent to hospital are suspected of having measles, while it is not clear what illness the remainder of those showing symptoms might have.
 
"We informed officials because we don't know what is happening to the kids. But they told us that our place is not safe to come to. So they cannot come to our place due to security reasons," U Khin Maung Win said, apparently referring to ongoing conflict in the region.
 
Health educator U Win Htay from Ganan Pyin village, which is close to Thalu Maw village, said that although he was providing medical treatment to the affected children, he would not yet venture to diagnose their ailing condition.
 
"We cannot say anything exactly. We asked for the doctors from the township and also officials to investigate what is going on here," he said.
 
According to the Ganan Pyin village Health Department, officials from the corresponding township-and state-level departments will visit Thalu Maw village on January 28.