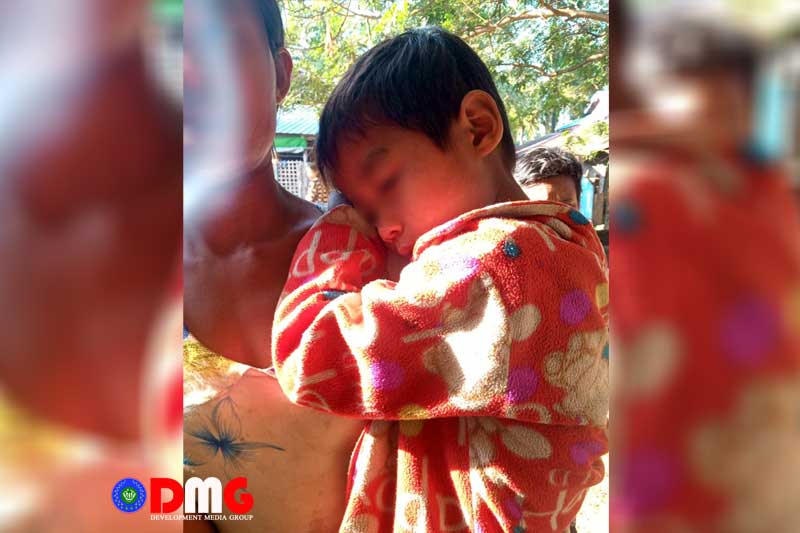 Khaing Min and Myat Swe | DMG
29 January, Sittwe
The number of cases of illness among children at a village in Arakan State's Ann Township has climbed to more than 70 and blood sample tests are ongoing, according to the state Department of Public Health, as concerns grow of a potential measles outbreak. 
On January 28, officials from the Department of Public Health at the state and township level reported 29 suspected measles cases among children in Thalu Maw village, with dozens more presenting symptoms more consistent with "normal illness," Dr. Soe Win Paing, assistant director of Arakan State's Department of Public Health, told DMG.
Blood samples drawn from those children suspected of having contracted measles were sent to the National Health Laboratory in Yangon on January 29 for testing. 
"They have symptoms of measles; red rash and illness. We sent their blood samples to Yangon to check if they are suffering from measles or not," Soe Win Paing said.
Health staff vaccinated and gave vitamin A to the sick children, said village administrator U Khin Maung Win.
"They told me they could not confirm the disease at the moment," U Khin Maung Win said.
The children from Thalu Maw village have been feeling sick since January 20, exhibiting symptoms including a red rash on their faces and coughing.
Four of them were sent to the Kyaukphyu District hospital and were diagnosed as suspected measles cases. A 15-year-old boy, one of the four sick children, died while receiving medical treatment at the hospital in Kyaukphyu.