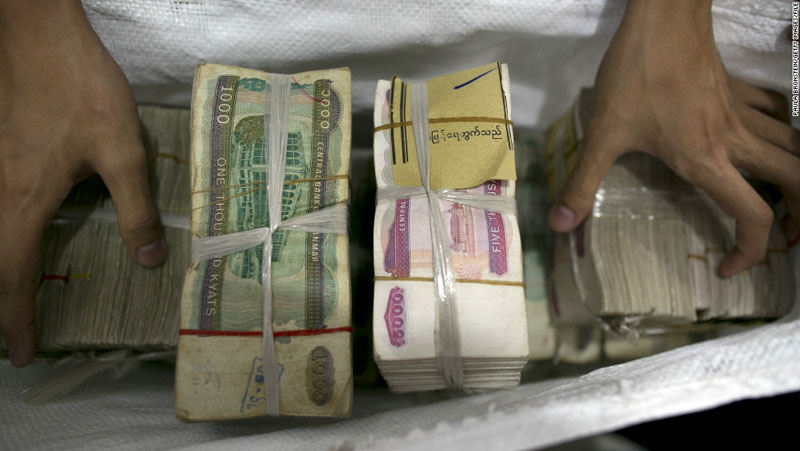 Win Nyunt | DMG
February 6, Sittwe
The Arakan Army (AA) confiscated the salaries of government workers in Paletwa Township, Chin State, on the morning of February 5, locals said.
As staff from the Education Department working in Tayon Eyin village were returning from Paletwa after withdrawing their salaries, the AA stopped their boat near the creek at Maung Hnama village and took the money, totalling more than K4 million (US$2,667) for police staff and over K2 million (US$ 1,333) for teachers.
"What they [the AA] want to get is the salaries of police staff. We had more than K4 million for the police staff, but they had heard that it would be K10 million. When they didn't see that much money, they also took our salaries for security reasons," middle school teacher U Aung Nay Moe told DMG. "We have heard that our salaries will be returned."
Teachers in Tayon Eyin village said the AA had informed them that their salaries would be returned.
Regarding the salary seizure, AA spokesperson Khaing Thukha justified the confiscation by saying that the police force has been responsible for attacks on AA troops.
"We took more than K4 million from the Myanmar Police Force because it is among the groups who have attacked us. That's why we took the money — they are an enemy armed group for us. But we gave back the money to the teachers," he said.
Paletwa Township is among the conflict zones of western Myanmar, where fighting between the Tatmadaw and the AA continues. It is also an area affected by the recent reimposition of a mobile internet shutdown by the government, which has cited security concerns in cutting off online access.