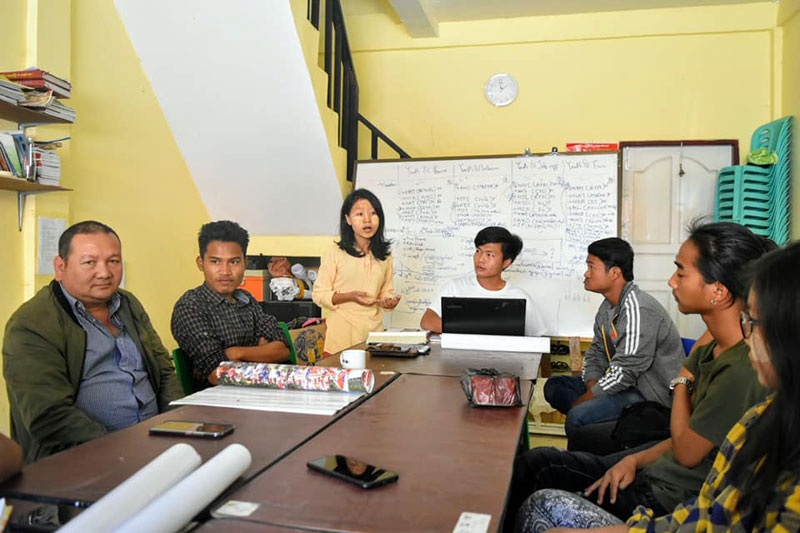 Myo Thiri Kyaw | DMG
11 February, Sittwe

The internet blackout affecting nine townships of Arakan and Chin states was the topic of conversation at a discussion organised by the Arakan Youth Network and Sittwe University Students' Union on February 9 in the Arakan State capital Sittwe.
Among the attendees, sentiment overwhelming opposed the internet shutdown as grievances were aired and talk turned to strategizing over how best to achieve an expeditious restoration of online connectivity, said Ma Oo Khin Thein, a member of the Arakan Youth Network.
"Cutting off internet access will damage the economy for people. And then, there are internally displaced people in Arakan State. Locals who live near IDPs are aggrieved so much. Losses can happen including losing rights," she said.
Civil society organisations and lawmakers have demanded that internet access be restored, but to no avail thus far. 
A follow-up discussion will be held on February 12, when participants hope to decide on an effective plan to put further pressure on the government to lift its internet ban. 
"Other groups have also demanded this but nothing happened. We want to hold an effective event. However, we don't know if it will work," said Ma Oo Khin Thein.
From merchants along the Myanmar-Bangladesh border to journalists covering ongoing conflict in Arakan State, several different constituent groups have expressed opposition to the internet shutdown, said Ko Toe Toe Aung, chair of the Sittwe University Students' Union.
"It shouldn't happen; a 'people's government' that intentionally blocks news," he said.
Mobile internet access was cut off in Buthidaung, Maungdaw, Rathedaung, Myebon, Paletwa, Ponnagyun, Kyauktaw, Mrauk-U and Minbya townships without advance notice on June 20, 2019.
Although the government restored internet access in Buthidaung, Maungdaw, Rathedaung, Myebon and Paletwa townships on September 1, it was again cut off on February 3.