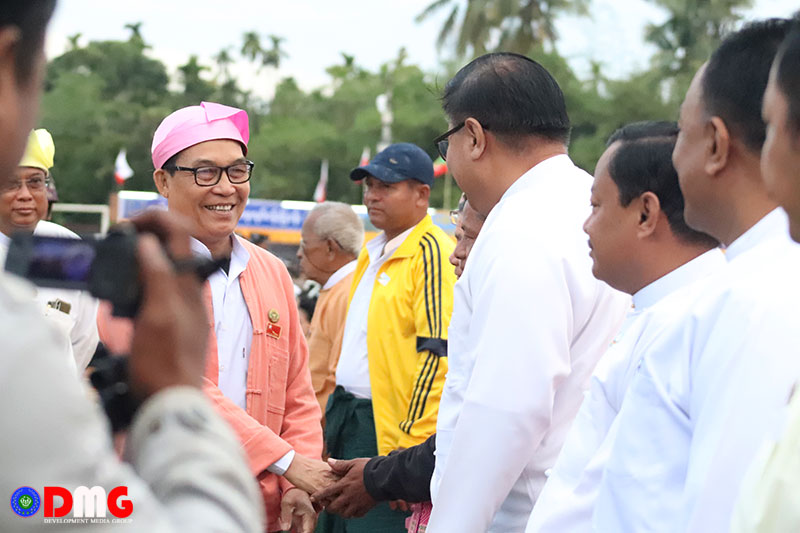 Cha Lu Aung | DMG
19 February, Buthidaung
 
A helicopter carrying Arakan State Chief Minister U Nyi Pu and Union Minister for Social Welfare, Relief and Resettlement Win Myat Aye was targeted by machine gun fire in Rathedaung Township on Wednesday morning, a military officer who asked for anonymity told DMG.

U Nyi Pu, Union Minister Win Myat Aye and departmental officials were enroute to Buthidaung town to provide relief aid to IDPs and students injured in a recent shelling incident when they were attacked near Ohe Phauk village. The chopper made it safely to its destination but sustained damage to an onboard temperature control system, the military officer said.

The ministers and accompanying delegation proceeded with the planned distribution of monetary assistance and other aid to the IDPs and students in Buthidaung.

Union Minister Win Myat Aye acknowledged the harrowing ordeal while speaking to members of the monkhood in Buthidaung.

"We faced a life-threatening incident during the trip. Sayardaw will know later what it was. The most important thing is peace," he told them.

Buthidaung and Rathedaung townships have been among Arakan State's active conflict zones as fighting between the Tatmadaw and Arakan Army has plagued the state for more than a year.