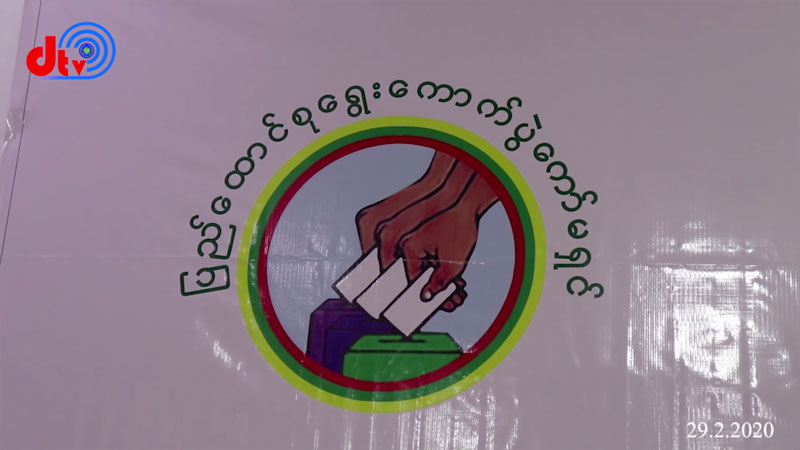 Min Tun / DMG
29 February, Sittwe

Regional election commission members last week held a two-day workshop on potential security challenges if the 2020 election is held in conflict-affected areas of Arakan State.
Officials from the Arakan State election sub-commission, state-level officers and civil society organisations attended the workshop, held in Sittwe on February 27-28.
Hanging over last week's workshop was the underlying question of whether or not elections would be held across the whole of Arakan State, with many townships plagued by fighting between the military and Arakan Army in recent months.
"We mainly discussed possible threats to staff of polling stations — facing suspicion and being arrested by both sides [of the conflict] and manipulation of the heads of polling stations and poll workers," said U Thurein Tun, an officer of the Arakan State election sub-commission.
Ma Oo Khaing Thein, manager of the Arakan Youth New Generation Network, said participants aired their concerns about security if elections are to be held in conflict-affected parts of Arakan State.
"We discussed whether police can provide security both in town areas and other regions. We are worried about the police force being insufficient," she said.
The Arakan State election sub-commission has said it is working to be ready to hold this year's vote in all 17 of Arakan State's townships if the Union Election Commission instructs them to do so.
Fighting between the Tatmadaw and Arakan Army, which began in December 2018, has flared across several Arakan State townships in the months since. The ongoing conflict has cast uncertainty over the feasibility of holding the election, slated for November, in areas where hostilities have disrupted everyday life, with many residents interested to know whether they will have an opportunity to cast their ballots later this year.