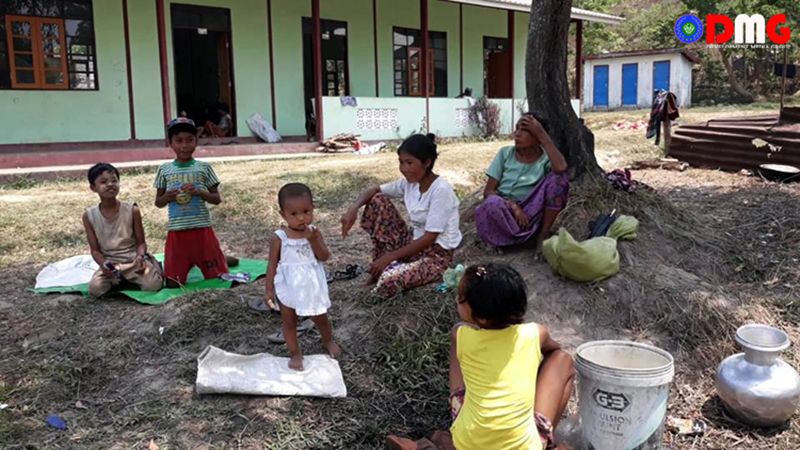 Wuntha (Maungdaw)/DMG
March 3, Buthidaung

Arrangements have been made to allow 54 students sheltering in Buthidaung town's IDP camps to sit for matriculation exams this year, according to officials at those camps in northern Arakan State.

Camp representatives said that the students are currently studying at Ywarma charity school and Yan Aung Myay IDP camp in Buthidaung town.

One student readying for the high-stakes test, Maung Nay Zaw Oo, said his education was disrupted in the lead-up to the exam as his family had to flee from his village of Thayapyi to Buthidaung town.

"My current school is good but we have difficulties having enough books or pens," he said. "We are late in our schooling due to the conflict but I am trying my best for the exam."
The matriculation exam will begin on March 11 for the 2019-20 academic year, with 17 students from Yan Aung Myay IDP camp and 37 students from Ywarma charity school set to take the test.

"As we are IDPs, we have faced, foremost, many difficulties to study. But teachers have tried to teach us as best as they can. So we are also trying our best at the moment," student Ma Phyu Phyu Win said.

There are 2,367 matriculating students in Buthidaung Township for the 2019-20 academic year, according to education officials.

The Maungdaw district education office has said that five exam stations will be operated across the whole of the township, and the No. 3 high school of Buthidaung town will be replaced with the Zadi Taung exam station due to security concerns.

An Arakan State education officer told DMG last month that 20 exam stations in areas considered security-deficient due to conflict would be moved to safer locations.

There are more than 49,000 matriculating students in Arakan State, including 5,603 students who are being moved to safer examination centre locations, according to the state education office.