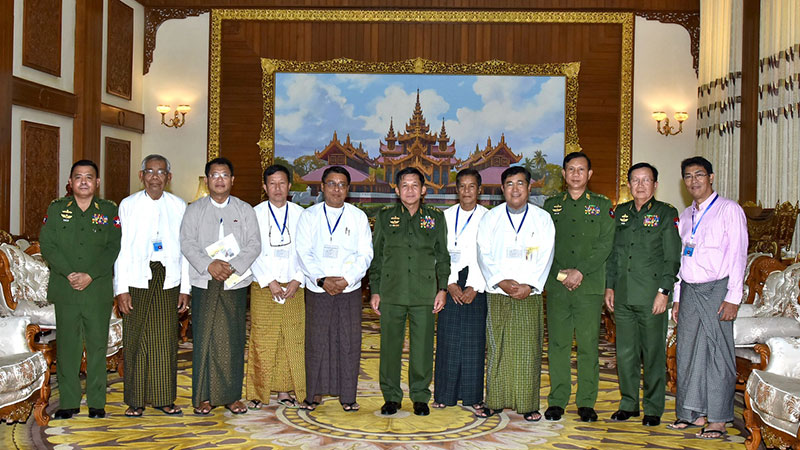 Khin Tharaphy Oo/ DMG
4 March, Sittwe
The Arakan National Party has instructed a Yangon Region minister from the party who met Myanmar's commander-in-chief last month to submit a letter to the party elaborating on their recent discussion, but the party does not plan to discipline him, an ANP official has said.
Yangon Region Minister for Arakanese Ethnic Affairs U Zaw Aye Maung, who is an ANP member, came under party scrutiny for meeting with Senior-General Min Aung Hlaing without first seeking permission from the party to do so.
U Zaw Aye Maung told members of the ANP by phone that he discussed with the commander-in-chief the matter of erecting a statue of the revered monk Sayardaw U Sandramani because community elders in Sittwe had asked for his assistance in moving forward with plans for the statue.
Some party members, however, questioned his meeting with the Tatmadaw chief, so the party decided to instruct him to present, in written form, details on the nature of those talks to its Central Executive Committee, ANP Secretary U Khaing Pyi Soe said.
"We told him to send the letter within 15 days. After getting the letter, the party will decide what it should do. But there is no plan to take action against him," he told DMG on March 4.
Snr-Gen Min Aung Hlaing received U Zaw Aye Maung and Sittwe community elders on February 13 in Nay Pyi Taw.
They discussed the situation regarding land donated by the Tatmadaw to establish the statue of the world missionary monk U Sandramani and construction of other religious buildings, the Office of the Commander-in-Chief said.
Also broached during their meeting were the topics of development projects in Sittwe and efforts to maintain regional stability in furtherance of education, healthcare, social and economic objectives for Arakan State, the military chief's office reported.