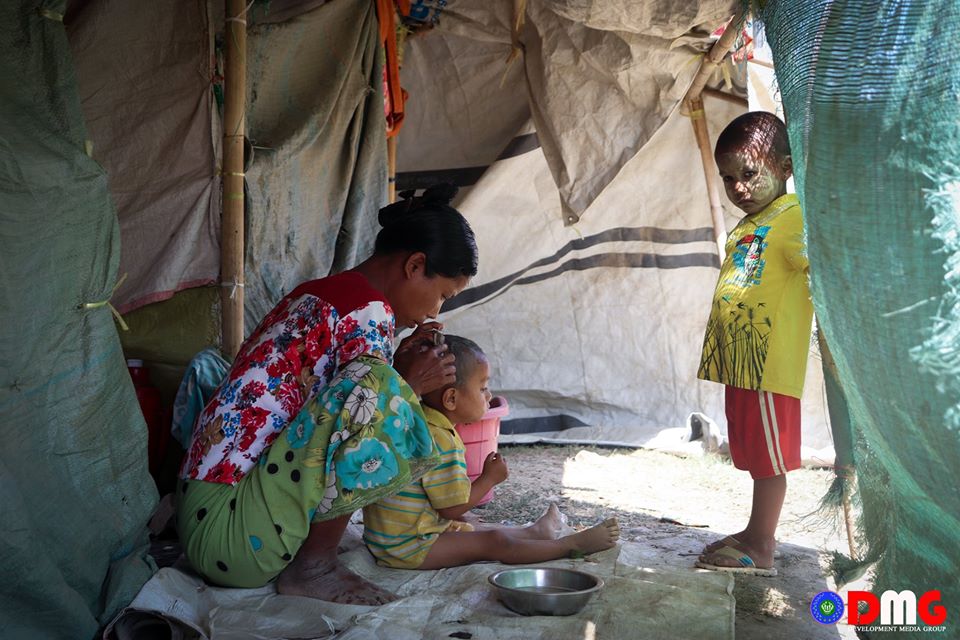 Win Nyunt | DMG
24 April, Sittwe
The Ministry of Social Welfare, Relief and Resettlement issued a press release on April 21 saying plans are in place for COVID-19 preventive and containment measures in camps for internally displaced people (IDPs), even as some in those settlements express doubts about their pandemic preparations.
The press release included details of the health measures undertaken, including installation of washing stations at the camps, a ban on guest visitors and awareness campaigns targeting IDPs that urge them to wear cloth face masks, and to wash hands frequently and thoroughly, among other precautions.
However, at some camps where basics like soap and water can be precious commodities, IDPs are facing long odds in efforts to mitigate the risk of COVID-19 contagion, said U Wai Hla Aung, the in-charge of Tin Nyo IDP camp in Arakan State's Mrauk-U Township.
"It isn't easy to follow the rules issued by the Ministry of Health and Sports for the disease. It is because our camp doesn't have sufficient water or soap. Let handwashing be; we are struggling just to have drinking water," he explained.
Social distancing guidelines are also more aspirational than feasible at many of the camps, where overcrowding is a fact of life.
"If one of the displaced people were to be infected at the camps, no one would be spared there. The disease would infect all in a short time," said U Wai Hla Aung.
More than 3,500 people are sheltering at the Tin Nyo camp. Because the camp is largely unreachable for public health workers, IDPs there have not benefited from the same intensive COVID-19 awareness campaigning that has been undertaken across much of the country.
Wahtaung IDP camp in Kyauktaw Township, where more than 2,000 people are residing, lacks sufficient water, soap and facemasks, severely hobbling efforts to prevent and contain the disease, said Ko Tun Hla Kyaw, the camp's in-charge.
"I set up a basin for handwashing at the entrance to the camp yesterday. But it is not convenient for users because of inadequate soap and water," he added.
Illustrative of the challenges facing displaced populations, the April 21 press release from the Ministry of Social Welfare, Relief and Resettlement had not yet reached Tin Nyo IDP camp as of Friday.
Not helping matters is the fact that the government has cut off mobile internet access in eight Arakan State townships, including Mrauk-U and Kyauktaw, as well as Chin State's Paletwa Township. There are more than 150,000 displaced persons in Arakan State, most of whom are residing in the townships where internet access is blocked.
Civil society organisations, affected residents and foreign governments have called for the restoration of internet access, citing the negative impacts of the information blackout in the COVID-19 era.
The Ministry of Foreign Affairs issued a statement on April 10 reiterating a previous government defence of the ban, which it said is intended to deprive the Arakan Army of the internet as a communication medium. Nonetheless, the statement said authorities were cooperating with telecommunications providers to disseminate information about COVID-19 via their networks.