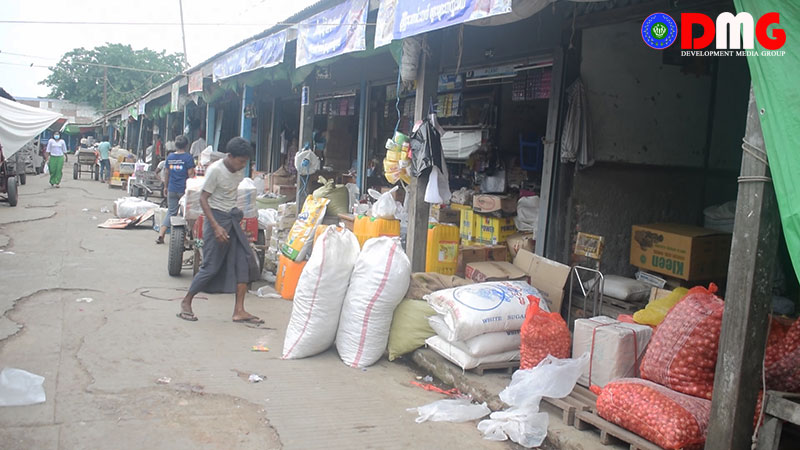 Kyaw Thu Htay | DMG
29 April, Sittwe 
Sittwe is reporting shortages as trucks transporting commodities have been unable to reach the city, with the supply chain disrupted by clashes between the Tatmadaw and the Arakan Army along the highway used to get the goods to market.  
Basic food items such as cooking oil and onions are sold out at shops in Sittwe because trucks from Yangon and Mandalay have been unable to complete their routes to the Arakan State capital, a shop owner said. 
"All foodstuffs are nearly running out. We have to sell what we left," said Daw Win Win Khaing, a grocer in Sittwe. 
Vendors told DMG it was important that supply lines be maintained as Myanmar's two biggest cities Yangon and Mandalay are used to source a number of goods sold in Sittwe and the wider region. 
"Trucks did not reach here. So, we do not have foodstuffs to sell to our consumers. The shortage is about two weeks now," said U San Oo, a vendor at the main market in Sittwe. 
Fuel prices have also increased at petrol stations in Sittwe due to similar supply chain woes. 
The Arakan State government and the Rakhine State Chambers of Commerce and Industry met earlier this week to devise a new shipping route for goods in light of recurrent hostilities in Minbya Township that are being blamed for the disruption. Under a new plan, commodities from Yangon will be shipped to Kyaukphyu via motorway and then transported onward to Sittwe by watercrafts.  
Hostilities in recent weeks in Minbya Township have ranged from airstrikes and attacks on civilians, including a World Health Organization vehicle, to clashes between the military and the Arakan Army that have emptied villages of their inhabitants.