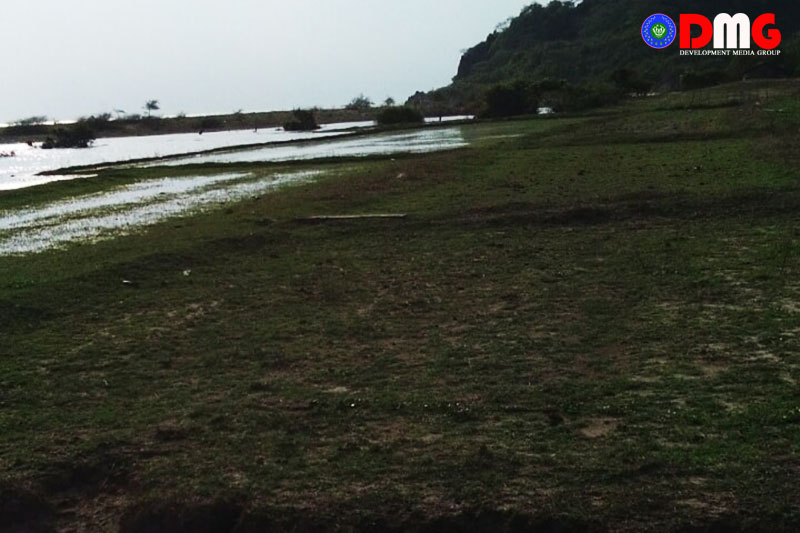 Aung Kaung Zaw | DMG
6 June, Manaung 
The growing popularity of a beach and coral reef along the Manaung Township coast has fuelled an adjacent land dispute, according to the Pyin Kauk village administrator. 
Out of about 30 acres of farmland near the beach, over 3 acres are owned by two locals while the remainder are communal land plots. With the beach increasingly crowded with visitors, the quarrel over land ownership and use erupted, said U Hmat Htin, administrator of the nearby Pyin Kauk village. 
"We have never experienced such land disputes in the past. Since the beach has become a popular destination for travellers due to the coral reef, the land dispute happened," he said. "There is a communal land plot near the beach. We erected posts to separate the land plots but the two locals didn't accept it. They want more land plots." 
The son of U Maung Phyu Aung, one of the two landowners involved in the dispute, destroyed the posts erected to designate part of the beachside acreage as a communal plot, said former village administrator U Than Shwe. 
"They want our farmlands," said U San Pe, U Maung Phyu Aung's son. "We don't want to increase our farmland, as they claim. We have a land-use certificate issued by the government. They want to confiscate our farmland arbitrarily." 
The case will be presented to the local government for arbitration, U Maung Phyu Aung said. It has yet to be lodged with the concerned department and consultations with local villagers are being held, according to U Hmat Htin.