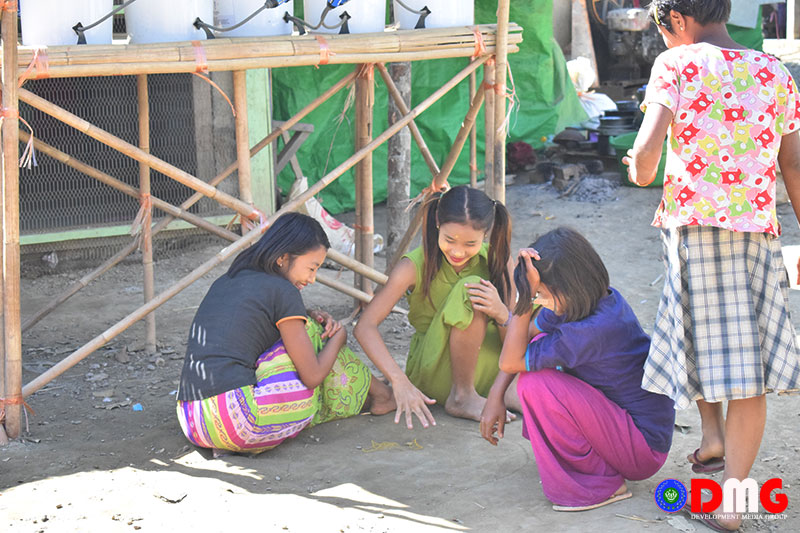 Myo Thiri Kyaw | DMG
24 June, Sittwe

Sanitary pads are an often-overlooked essential for women sheltering at camps for internally displaced people (IDPs) in Arakan State, according to female IDPs.

The majority of supplies provided to IDPs take the form of rations that do not include feminine hygiene products, said Ma Than Khaing Sein from the Pipinyin IDP camp in Mrauk-U Township.

"We use sanitary napkins thriftily," she added. "We save one napkin [to use it] twice. Whenever we don't have any napkins, we don't dare to go out even if using something instead of a napkin."

Currently, the International Committee of the Red Cross (ICRC) and the World Food Programme (WFP) provide food aid to IDP camps on a monthly basis. As such, women from displacement camps are hoping to call attention to their feminine needs so that more supply deliveries include sanitary pads in future.

Daw May Than Nu, residing at Sanyein IDP camp in Myebon Township, said: "We are worrying about security measures as well as the health situation for those residing at the IDP camp. As we don't have incomes to buy napkins, we ask all to aid with such kinds of materials monthly."

There are more than 150,000 IDPs in Arakan State due to fighting between the Tatmadaw and the Arakan Army (AA), an estimated 90,000 of whom are women, according to data compiled by the Rakhine Ethnics Congress (REC).

U Zaw Zaw Tun, secretary of the REC, encouraged camp officials to communicate the necessary security and health needs — material and otherwise — of women at the camps whenever relief teams arrive.

"Now is an unsafe situation for women IDPs. ... Those in charge of the camps need to submit their reports including required items," said U Zaw Zaw Tun.

U Khaing Kaung Zan, director of the Wan Lark Development Foundation, a civil society group in Arakan State, said women in IDP camps also need dedicated spaces for giving birth in safety and dignity.