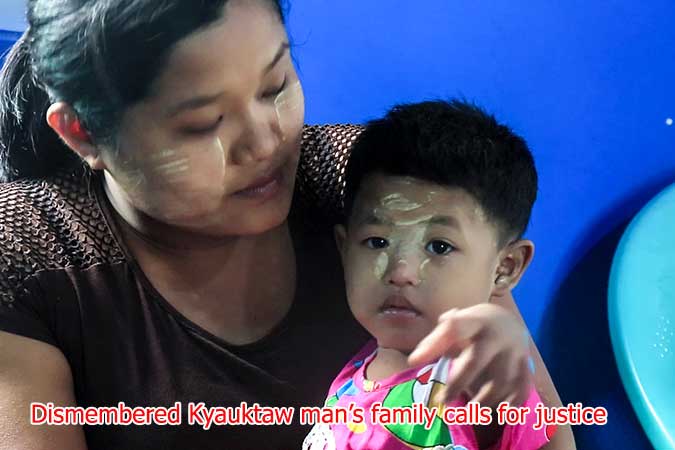 Aung Htein | DMG
17 July, Kyauktaw 
Legal action should be taken against those involved in the killing of a 31-year-old man from Pikethae ward in Kyauktaw town, Arakan State, the victim's family said. 
U Kyaw Hlaing, who earned a living collecting bottles, left his home at around 4 p.m. on July 2 to collect bottles. That evening some people reported seeing the arrest of U Kyaw Hlaing by a military contingent, said the victim's wife, Daw Su Chay.  
Daw Su Chay subsequently told reporters in Sittwe that she was calling on the army to release her husband, who was reportedly detained near a banana plantation at the back of Shwekyaung Dhammayone in Kyauktaw town. But the army denied the arrest of her husband. 
She then asked for help from the township administrator and local lawmakers for the release of the victim, to no avail, she added. 
On July 6, the victim's right thigh was found on the bank of the Kaladan River near Kisapanadi Bridge in Kyauktaw Township. The next morning, the victim's head, leg and hand were found separately.  
Daw Su Chay said she had no idea how to move on with her life due to the death of the family's breadwinner. 
The victim's family has opened a case at the Kyauktaw Myo Police Station and sent a letter to the Arakan Human Rights Defenders and Promoters Association, his family said. 
U Myat Tun, director of the association, said: "He was killed by accusing him of being an AA member. If he is assumed to be an AA member, he can be legally charged. It should be done within the legal bounds. I want to say that such a brutal killing amounts to committing a war crime." 
DMG phoned Brigadier-General Zaw Min Tun from the Tatmadaw True News Information Team seeking comment on the death of U Kyaw Hlaing, but he could not be reached. The brigadier-general told RFA that it was merely an accusation and that the Tatmadaw would never do such a thing. 
During the ongoing conflict between the Tatmadaw and the Arakan Army (AA) in Arakan State, the Tatmadaw has increased arrests and interrogations of individuals considered suspect, with some dying in military custody.