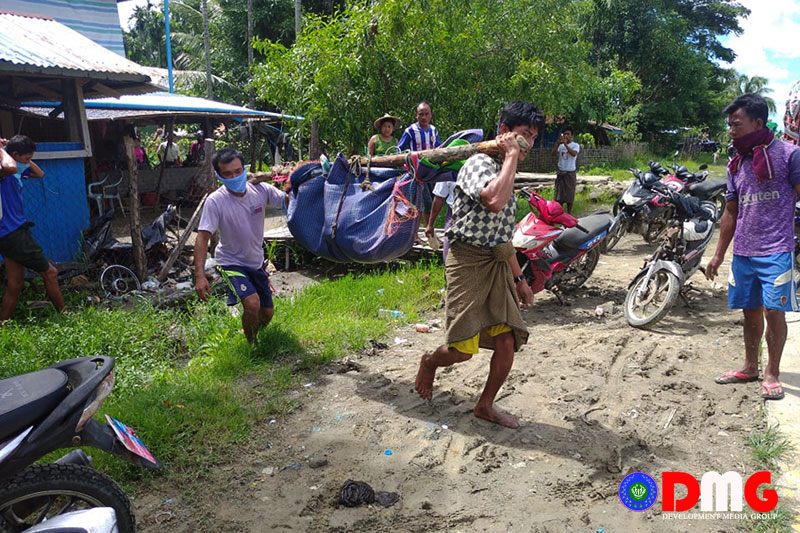 Aung Htein | DMG
8 August, Sittwe 
The All Arakanese Solidarity Committee (AASC) released a statement on August 8 urging culpable individuals and organisations to immediately end the inhumane treatment of Arakanese people. 
The statement accused the Myanmar military and government of violating indigenous people's human rights in a variety of ways, including illegal detention and torture, as well as extrajudicial killings and artillery attacks on residential areas and religious structures amid intensifying armed conflict between the military and Arakan Army since January 2019. 
As a consequence of the hostilities, the civilian death toll in Arakan State has surpassed 270 and the number of people injured by the fighting has totalled more than 500, the AASC said. In addition, some 200,000 people have been internally displaced (IDPs) after fleeing their homes due to the conflict.  
More than 20 villages were set ablaze in Arakan State and the number of people charged by the military over suspected links to the Arakan Army topped 800, according to the AASC. 
Grisly deaths blamed on the military have been all-too-frequent occurrences since the conflict first began to escalate in early 2019.  
Last month, U Maung Tun Sein from Chainkharli village in Rathedaung Township was shot dead and his body was dumped in a latrine near his home. Also in July, U Kyaw Hlaing met a similarly gruesome fate, with the dismembered remains of the Kyauktaw Township resident found along the banks of the Kaladan River. 
Violence against women has been a growing concern as well, as typified by a woman from U Gar village in Rathedaung Township who was allegedly raped by soldiers and has taken her case to police, seeking prosecution of the men responsible.  
"These activities were committed by security personnel from the military under the designation of what it described as 'counter-insurgency operations' against the Arakan Army. The people killed or raped were not terrorists," AASC said in its statement. 
The AASC went on to condemn the violent acts it has accused members of the security forces of committing in the course of its counter-insurgency campaign, saying local people in Arakan State were being victimised based on racial animus. 
The AASC also urged the union government to listen to the voices of ethnic minorities across the country, including in Arakan State, and urgently review any attempts to disrupt the goal of building a peaceful, democratic and federal union.