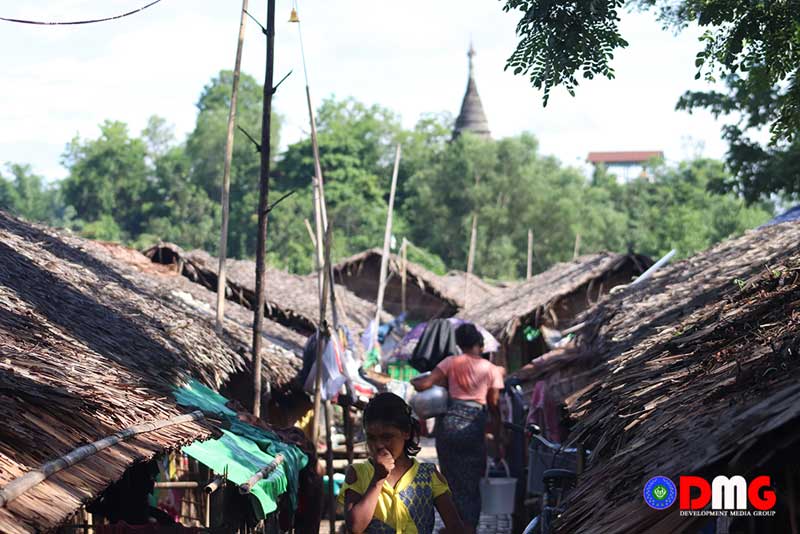 Hnin Nwe | DMG
24 August, Mrauk-U
Entry and exit at all camps for internally displaced people (IDPs) in Arakan State's Mrauk-U Township has been restricted after three health staff from Relief International were infected with COVID-19, IDP camp officials said.
The humanitarian aid organisation's staff members — case Nos. 408, 440 and 441 — visited five IDP camps in Mrauk-U Township over the past two weeks to provide healthcare services, Relief International's Myanmar country office said on August 23. 
The organisation "closed all of its Rakhine offices and suspended all programme activities on 19 August, including all movements within and between Rakhine townships for RI staff, in response to the four positive COVID-19 cases found in Sittwe," it said in a statement, adding that these cases were not RI staff.
On August 21 the first of the three RI cases was reported. 
All RI staff have been quarantined and the organisation has ceased operations in Arakan State until further notice. The Myanmar country office's full statement can be found here. 
Currently, IDPs who had close contact with the confirmed patients are being monitored at their dwellings. Since August 21, entry and exit to those dwellings has been barred.
"The Health Department has not conducted medical checkups on those who had close contact with the patients yet," Aung Sein Oo, an in-charge of Pipinyin IDP camp, told DMG. "I want them to do thermal screening and medical testing. All people living in the IDP camps may catch the virus if those who had close contact with the patients test positive for the virus."
Authorities have banned the entry and exit of people at 14 IDP camps since August 23 as locals said the patients had contacts with IDPs in Mrauk-U, said officials from some of the affected IDP camps.
U Kyaw Min, an in-charge of Latkaukzay ward in Mrauk-U town, said: "The Health Department and Township General Administration Department have not issued any statement yet. We restricted the entry and exit of people at the IDP camps according to our own plan. We've ordered the people to wash their hands and wear face masks when they go outside. Plans are underway to take more preventive measures."
Mrauk-U local Ma Oo Myint Yee said: "The people have to go outside without masks as they cannot afford to buy masks. It is a worrying situation for the people as the spread of the virus is accelerating. I am concerned about transmission of the virus via those who go outside because the whole township hasn't gone into lockdown."
From August 16-24, a total of 80 COVID-19 cases were reported in Arakan State — 71 in Sittwe Township, two in Thandwe Township, three in Mrauk-U Township and four in Buthidaung Township.
The figures represent a dramatic spike in infections, and include the first local transmissions reported in Myanmar in more than a month. Prior to the recent outbreak, there had been just 16 coronavirus cases in total reported in Arakan State.
Related Posts :