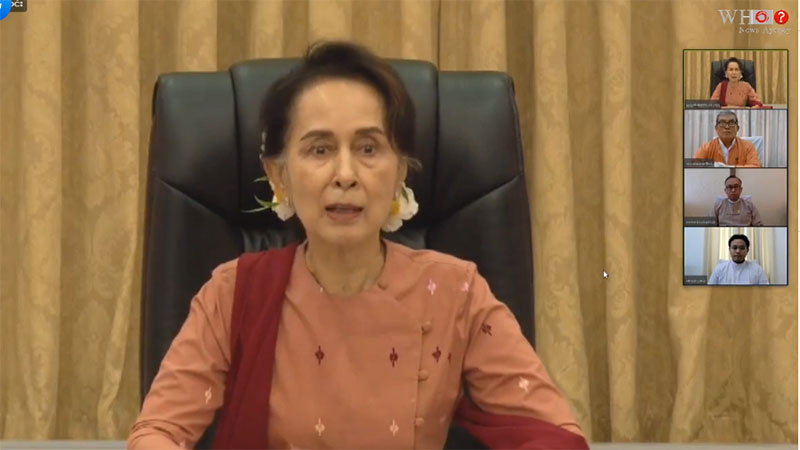 Min Tun | DMG
28 August, Sittwe

The government vows to ensure that there are no food shortages in Arakan State as the state grapples with an ongoing outbreak of COVID-19, State Counsellor Daw Aung San Suu Kyi said on August 28 at a virtual meeting on efforts to combat the pandemic in Arakan State.

"On behalf of the Union government, I dare say that there will be no food shortages in Arakan State. The government will try every possible way to dispatch rations to Arakan State. And I believe that other regions will also cooperate," she said.

Daw Aung San Suu Kyi's virtual meeting on Friday included Arakan State Chief Minister U Nyi Pu, the head of Arakan State's Medical Services and Public Health Department, Dr. Sai Win Zaw Hlaing, and a volunteer from Yangon Region who travelled to Sittwe to bolster the ranks of healthcare professionals in the Arakan State capital.

"The government will provide necessary cash assistance to virus-hit Arakan State," she added. "Our country is not rich. The country has not many resources. But the government always provides assistance to the parts of the Union fully. I believe that the public will extend a helping hand to Arakan State."

The state counsellor went on to say: "We need to support U Nyi Pu. Because U Nyi Pu faces the most challenges among the chief ministers. His facial expression is the coldest as well. It is strength for Arakan State as well as for the entire Union."

From August 16-28, a total of 226 coronavirus cases were reported in Arakan State. Prior to the recent outbreak, there had been just 16 coronavirus cases in total reported in Arakan State since the global pandemic began.

The Ministry of Health and Sports has issued stay-at-home orders in all 17 townships of Arakan State's townships in an effort to curb the spread of COVID-19.