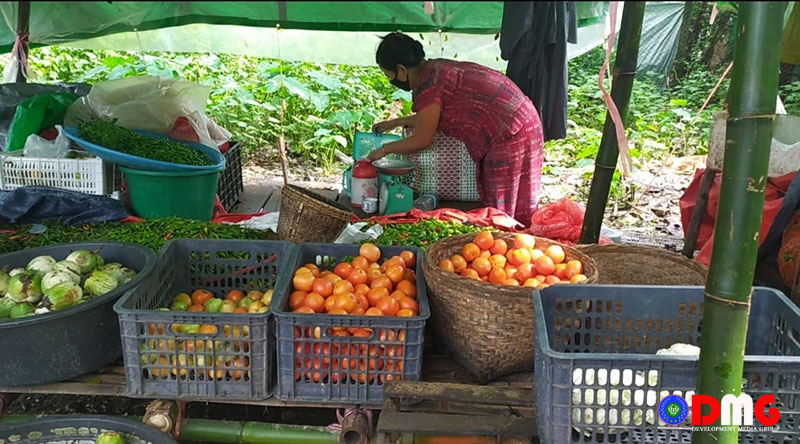 Aung Kaung Zaw | DMG
28 August, Manaung

Since trucks trading goods between Taungup and Pyay in Bago Region have seen those routes suspended due to a recent COVID-19 outbreak in Arakan State, people in Manaung Township are worried about food shortages in the weeks ahead.
Manaung residents currently depend on Taungup Township for rice, cooking oil and vegetables, and they are facing difficulties ordering them amid the upsurge in coronavirus cases, said Ma Tin Aye Shwe, a vegetable vendor.
"We ordered vegetables from Pyay previously. Now, trucks from Pyay cannot come to Taungup. So, we have to order vegetables from Taungup. And, the Manaung-Taungup waterway is not running daily. So, we are facing difficulties to order food," she said.
U Tun Tin, a rice trader in Manaung Township, said Manaung residents have to buy rice from other parts of Myanmar because local residents do not grow rice.
"We cannot trade with Pyay for rice now. If the food in Taungup runs out, we will face food shortages," he said.
With Manaung Township being an island in the Bay of Bengal, residents depend on food shipped in from other parts of Myanmar.
Manaung Township administrator U Kyan Aye said a plan was submitted to the government to forestall potential food shortages.
"Trading of foods is suspended due to the COVID-19 outbreak. We presented a plan to change out truck drivers and their assistants at Nyaung Gyo between Taungup and Pyay so as not to face food shortages," he said.
Traders in the township said vegetables will run out in Taungup within the next week and rice and construction materials will be depleted in the next two weeks if trade remains suspended.