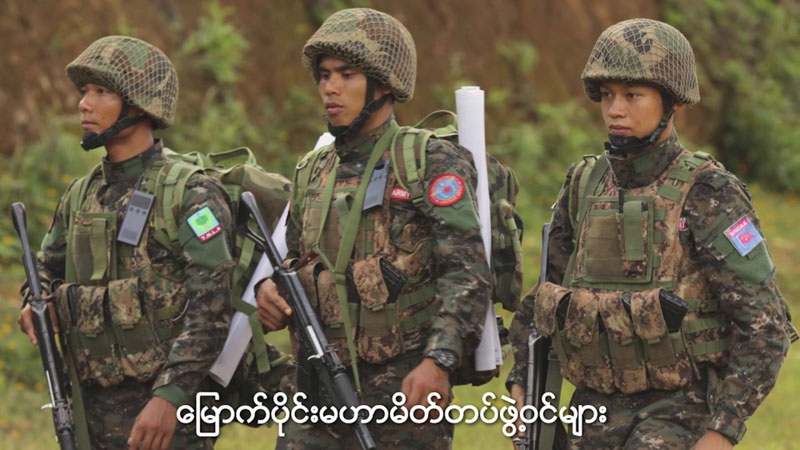 Aung Htein | DMG
September 1, Sittwe 
A trio of ethnic armed groups including the Arakan Army has issued a 70-day extension of a previously declared unilateral ceasefire, with the olive branch intended to facilitate efforts to combat COVID-19 and ease conditions for holding Myanmar's general election on November 8.
The seventh ceasefire iteration from the Three Brotherhood Alliance — which includes the Myanmar National Democratic Alliance Army (MNDAA) and the Ta'ang National Liberation Army (TNLA) — covers the period from September 1 to November 9, said a statement from the groups dated September 1.
The ceasefire was also declared "with the aim to effectively carry out practical tasks in conformity with the peace process and to negotiate the bilateral peace dialogue as soon as possible" with the government and military.
On August 24, the military also issued a statement extending its own unilateral ceasefire by one month, through September 30, similarly citing the coronavirus pandemic as a primary reason for the peace overture. But the military's ceasefire is understood to exclude Arakan State and Paletwa Township in Chin State, where fighting between the Tatmadaw and the Arakan Army (AA) persists. 
Lower House lawmaker U Pe Than from Myebon Township said: "The military and the AA need to make a ceasefire. I think the main point is both sides will reach an agreement that will not harm the people after face-to-face discussions about peace."
Concern is growing, meanwhile, about a rising COVID-19 case count in Arakan State, where there has been no appreciable decline in hostilities between the military and Arakan Army since the pandemic began. Civilians have borne the brunt of the conflict, with hundreds killed or injured, and an estimated 200,000 displaced from their homes.
U Yin Aung, a man originally from Arakan State who has taken shelter at the Wetinpauk IDP camp in Hlegu Township, Yangon Region, said: "I want peace at the negotiating table instead of by way of arms."
The Three Brotherhood Alliance will "take decisive defensive actions like before, hand in hand with the oppressed peoples," if the military continues to engage in "offensive attacks like before," reads the statement from the groups.